I am officially back from my summer break and about to start
school in a few days. Back to the world of administrative studies
and writing about policy! But also back to the lovely world of
writing about food and making for all of you.
Over the summer I spent sometime in the California mountains
with my Grandparents testing, writing, and drawing. It gave
me a chance to test out some key recipes on some very willing
omnivores.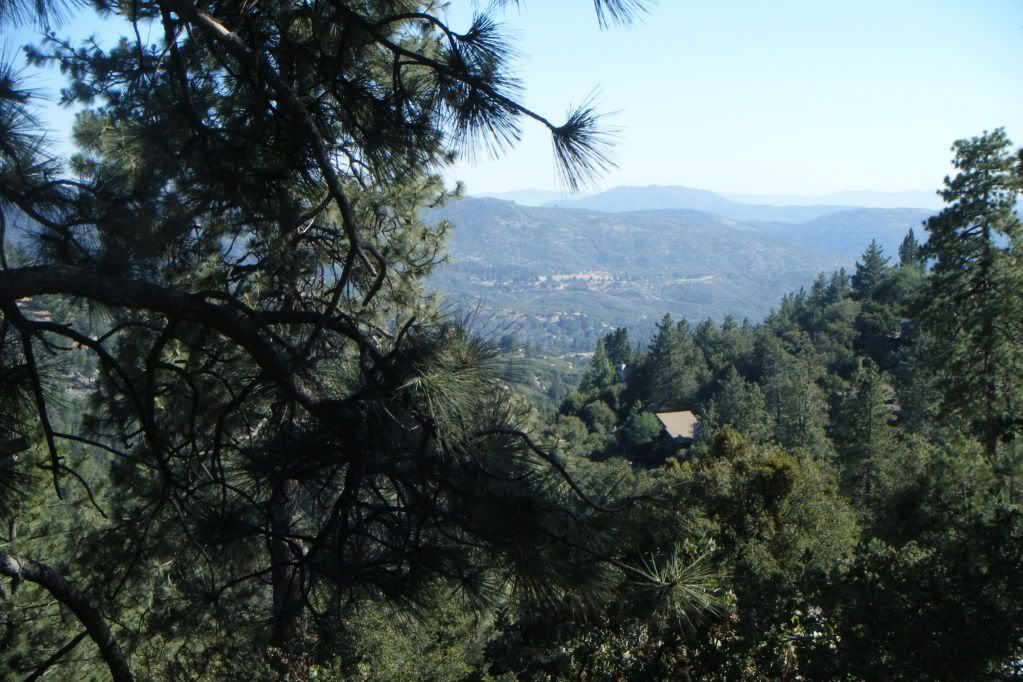 The view from my Grandparents' mountain house
Then I took off to Hawaii to stay with my parents and younger
brother for three weeks. It was absolutely gorgeous, as usual
and I got quite a tan. There I got to throw somethings a my
brother who is pretty picky just to see what a picky kid would
think of some of the cookbook recipes. Thank goodness it went
over well and I got some good ideas from all of my ventures...
Our new favorite 'secret' beach
I didn't blog most of this because of spotty internet, busy
schedules and sometimes downright laziness. Yet now I am
switching in to high gear and taking on some new projects.
I'm doing some light catering again, which is always fun. Yet,
I'm entering the larger stages of the cookbook project and
illustrating is going to be intense.
This past weekend I picked up another catering gig and did a
job for Compassion Over Killing's Vegan Outreach at Animal
Acres. I will post pictures of that later as I am still unpacking
at my house and haven't uncovered my camera yet from all
my luggage.
Before I left I promised to do a series on Hawaiian cuisine,
so I thought I would celebrate my return with just that.
Plus, why not start with something everyone loves...
In Hawaii everyone knows and loves this light, sweet, fluffy
bread. Sometimes it is called Hawaiian sweet bread, sometimes
Portuguese sweet bread... I've had it in all different flavours as
well; Taro, Mango, Guava (Passionfruit).
However, these tastings were all in my pre-vegan days as the
traditional recipe is packed with eggs and butter. They are both
yeast and egg leavened, but my adaptation was better if I do say
so myself. The only thing different was the colour from no egg
yolk.
French toast from this sweet bread is very popular. I like encrusting
it with macadamia nuts and serving it with guava butter!
Hawaiian Sweet Bread
Ingredients
1 tbsp instant dry yeast
2 tbsp warm water
3-4 cups unbleached all-purpose flour or bread flour
1/2 tsp sea salt
2 tbsp flax meal beat with 6 tbsp water
1/2 cup coconut milk
3 tbsp earthbalance
2/3 cup vegan white sugar
1 tbsp vegetable oil
Soymilk for brushing (opt)
Make a paste with the yeast, salt and water and set aside.
Warm the earthbalance and coconut milk over very low heat,
but do not cook or get it 'hot'. Add the sugar and flax to the
coconut mix, then pour over the yeast paste.
Add the flour a half cup at a time until it forms a ball and turn
out on to a clean, floured counter top. Knead in some flour if
it is too soft to knead. Knead for about 10 minutes.
Place in a mixing bowl with the vegetable oil and roll the dough
around to ensure it is greased. This prevents your bread dough
from cracking and becoming hard while rising. Cover the bowl
with a towel and place in a warm spot.
Let it rise for about an hour and a half or until it has doubled in
size. Remove from the bowl and using a pastry knife or something
similar cut small balls about the size of plum. Fold the piece of
dough under a couple times to make a nice smooth roll.
Place onto a greased sheet as you go. After all the rolls are shaped
allow them to rise again for about 30-40 minutes. Brush the tops
with a little soymilk if you want before baking at 350F for 25-30
minutes until the tops are golden brown. This may differ a little
as I originally baked these at a high altitude and adjusted the
recipe after the fact.