Swiper, no swiping!
Those of you that have young siblings as I do or children of your own
might catch that reference. If not, I just swiped or knocked off a dish
from everyone's favorite Veggie Grill.
To be honest, I've never even had the darn thing. Yes, everyone raves
about it, blah blah blah-- but I have a hard time bringing myself to
pay $8-10 for a bowl of kale. I don't care how good it is. If I'm going
to go out to eat and drop dollars in the double digits, it better be
something I can't make at home or have never experienced before.
Its Ok if you can't cook and like to eat out because its the only decent
way to get good food, but you have to at least tell me you're
trying
to duplicate these things.
What is this All Hale Kale stuff? Apparently it is Kale and Quinoa
marinated in a papaya vinegarette, topped with purple cabbage,
walnuts, carrots, and a roasted corn salsa and chic'n/tempeh (opt).
I basically had everything but the papaya, so I subbed out some OJ for
that baby. Voila. Pretty delish. I didn't do the grilled plant protein,
since we were already eating quinoa and quinoa is high in protein.
Although, we did have some assorted baked sweet potato fries on the
side: orange, purple, and white sweet potato!
FYI: although many people do, there is really no need to remove the
stems from kale. Just cut off the very end and roll the whole leaf with
a rolling pin to tenderize. Crush the stem so it is soft and chewable.
Why waste a perfectly good piece of kale?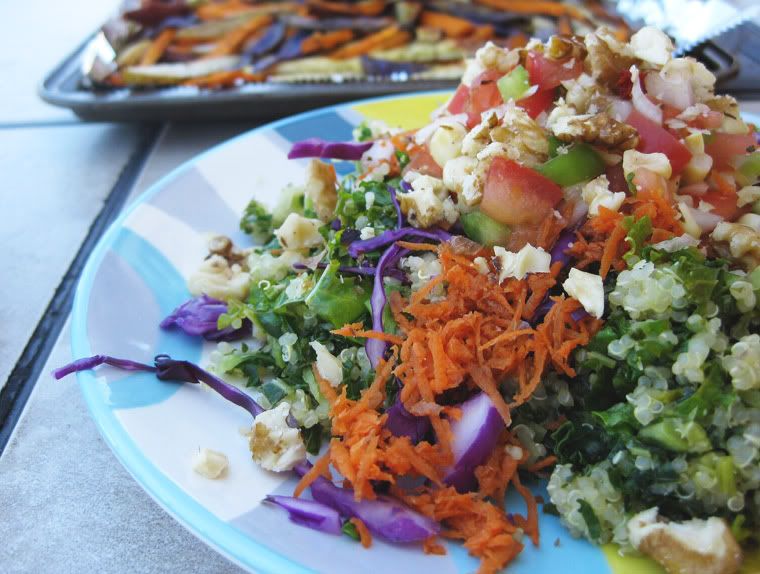 All Hail Kale Salad for 4
8 stalks of kale, tenderized and shredded finely
2 cups cooked quinoa
1 cup purple cabbage, shredded
1/2 cup grated carrot
1/4 cup raw walnuts, chopped
1/3 cup orange juice
2 tbsp olive oil or a nut oil
2 tbsp rice vinegar
1 tbsp agave
juice from one lemon
1/2 tsp grated ginger
salt and pepper to taste
1/2 cup fresh corn
1 tomato, diced
1/2 onion, diced
1 small clove garlic, diced
1/2 green pepper, diced
juice from one lime
salt and pepper to taste
cilantro (opt)
Once the cooked quinoa has cooled, toss it with the kale and add the
dressing. Go ahead and mix the salsa, let it sit to 'age' the flavors.
Once you're ready to chow down arrange the salad on the plate
starting with the marinated kale, salsa, cabbage, carrot then walnuts--
or whatever you like, it's all ending up in the same place anyway!
This is where you go "WHAT? That's it?!" and I smile and laugh manically.
I guess it's the Forth of July... Don't go out and roast dead animals
or burn a forest down with stupid fireworks... please and thankyou.
No, we are not celebrating today. Why? I dunno, should it be a priority?