If you've followed me for a while, you're probably familiar with
my complicated relationship with mushrooms. You'll also be glad to
hear that I am still working on it. In fact, I actually had a craving
for a dish with mushrooms. Yeah, weird huh? Craving something that
could potentially trigger me to start gagging.
(If you're not so familiar with my mushroom problem-- for some
reason, ever since I was little, they cause me to gag. Not that
I don't like them, they just trigger me to puke. Yes, a complicated
relationship indeed.)
A few months ago I had a dish of middle eastern vegan stroganoff.
It was pretty good, I guess. But it was one of those dishes that you
sat at a restaurant eating while only thinking about how much better
you could make it. (Why the hell am I paying $12 for this!?)
I've also noticed that I have recently been ordering things that
Monkey-man would be more likely to pick off the menu, I suppose it's
my way of eating outside my comfort zone. It hasn't gone wrong so far!
Yet, since I knew he'd enjoy this Russian comfort food, I had to
make it for dinner. I believe that middle eastern versions usually
contain tomato paste, so mine is more Russian. I'd use a different type
of pasta than the little UFO guys we had here-- or even make it again
with some roasted potatoes, even better!
Mother Vegan Seitan Stroganov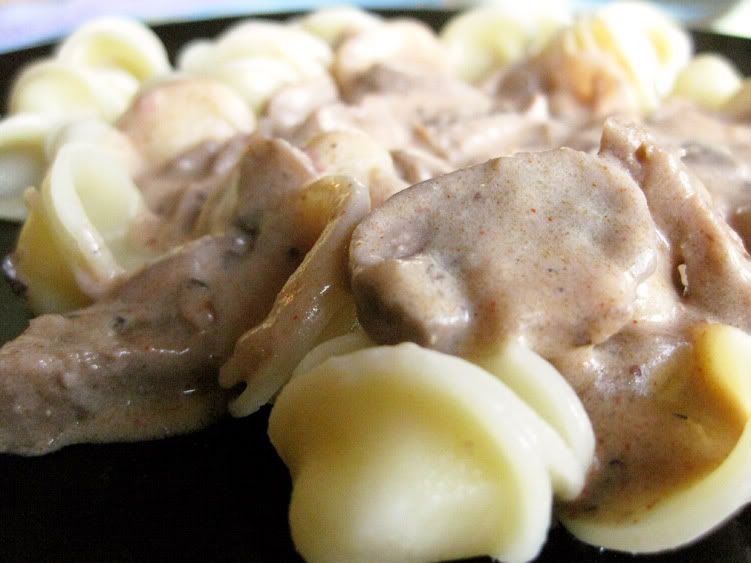 2 tbsp earthbalance
1/2 onion, chopped
2 cloves garlic, minced
2 cups white button (or any) mushroom, chopped
1/2 cup cup dry red wine
1 vegetable bouillon cube
2 tbsp flour
1 tbsp mustard
1/4 cup water
1 cup seitan, chopped*
1/3-1/2 cup vegan sour cream
salt and pepper
pinch of tarragon
Melt the earth balance and add the onion and garlic, sauteing
for a few minutes until it become translucent and fragrant.
Add the mushrooms, bouillon cube, and wine. Cook the mushrooms
until the start to look a little soft. Add the flour and mustard
and cook for a few minutes more.
Add the water if it looks like it needs a little liquid.
Toss in the seitan, sour cream and seasonings and heat through.
Serve once the mushrooms are tender and it is thoroughly hot.
Made about enough for 4 servings, maybe more depending on what
you serve it with. I used my homemade cracked pepper seitan.
But use whatever works for you, as long as it has a good flavor.
If it is the unflavored seitan maybe add an extra bit of soysauce
and seasonings.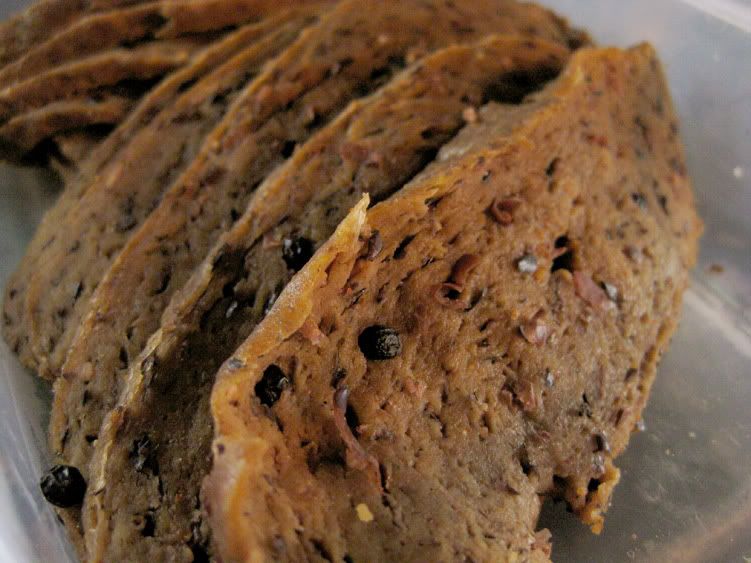 And if you haven't watched it yet, check out our video entry for
the Daiya cheese contest. And please share it too!