Since we had recently gone a little over the top with bread, we hit up
some standard burritos and tacos, and then I had to move on
to a different starch for my meals.
I've recently developed a love affair with risotto. There are so many
myths surrounding risotto, telling people it is too hard to make
unless you've got Gordon Ramsey screaming over your shoulder,
telling you what to do. I'm here to tell you that risotto is super easy.
If you can pour broth into a pan and stir rice around for a half
hour, you can make risotto.
Of course I like twisting the flavours around. You'll usually see
some tomato and basil risottos-- anything you might find replicated
from a pasta recipe. Most of all I wanted to change the colour of
the actual dish, so what better than beets? The beets are steamed,
peeled, and chopped before hand so that they are ready to go when
you're making the risotto.
Its perfect because I wanted to start up some themed dishes to get
you all ready and in the mood for St. Valentine's Day.
Yes, I know a lot of people really hate St. Valentine's Day.
Especially, if you're single or sometimes with a really annoying person.
Well if St.Valentine's Day is about love, what about loving yourself
a little? Love yourself with a special meal, some dark chocolate,
a glass of wine, and your favorite movie.
Or throw a little dinner party and then you won't be alone. Maybe
invite all your single friends so no one feels alone out there in
the world of candle light couple events... I honest have never seen
St. Valentine's as something corporate or designed to make you feel
bad for not having a significant other. I always used it as a day to
remember all the people I love. I'd make cards, cookies, or candy for
all my friends and family. Later on in life, I got little things here
and there from boys and that was nice too. But I wasn't expecting it,
so it was even better.
Getting back to cooking.... If you are trying to multi-task while
making risotto, good luck. I mean forget it. You'll probably end up
with some hard, sticky rice. You can hardy leave the pan alone for a
minute without it drying out.
So make sure everything else is set and ready to go. Feed the cats,
take out the dog, avoid interruptions. And enjoy~
Bejeweled Risotto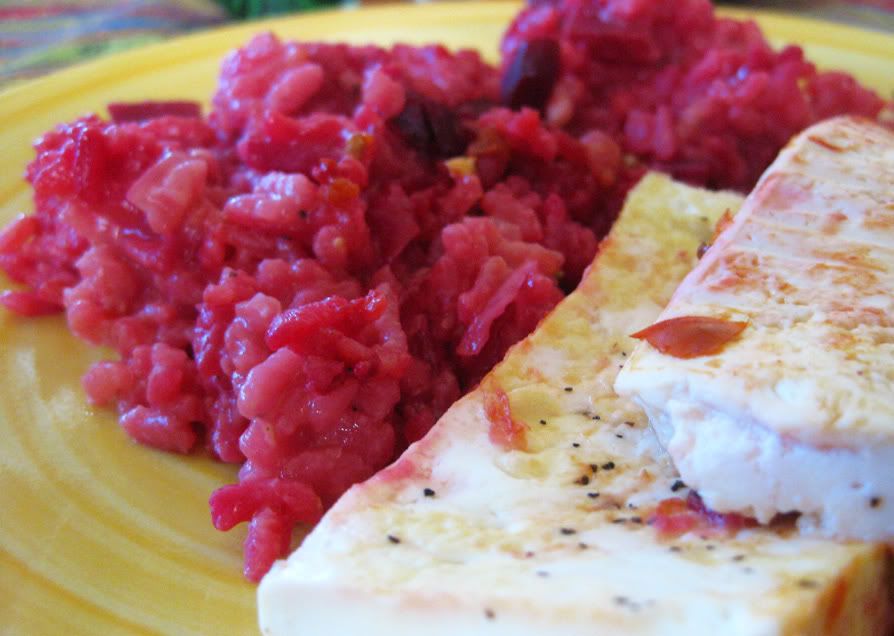 3 medium beets, cooked, peeled and chopped
1/2 large onion, minced
4 cloves garlic, minced
3 tbsp earth balance or olive oil
1 cup vodka
6-8 cups of vegetable broth
or water with a few bouillon cubes dissolved
2 cups arborio rice
1/4 cup daiya moz cheese
black and white pepper
sea salt
sage, thyme, lemon zest
First heat the oil in a large frying pan or saute pan.
Add the onions and garlic and cooking in the oil for a few minutes
at a medium to low high heat.
Add the rice, coating well with oil. Cook for about two minutes,
stirring. Add the vodka, making sure that it is warm or room temp
to not shock the rice leaving it unable to cook properly.
Once the vodka is almost absorbed and the liquid looks sparse,
add a 1/2 cup of warm or room temp broth. You will continue to do
this. Add broth, stir, cooking it just at a light simmer until the
liquid is not quite gone, add more broth. Don't let it get too dry.
Once it starts to look puffy and sticky, start testing it to see if
the center is cooked. Once it is near al dente, add the seasonings
and chopped beets. Continue to cook until the beets are hot and the
colour has distributed nicely. Add more broth still as needed.
Finally, add the daiya and stir until completely melted. Serves 4-6
I had mine with some garlic-chili grilled tofu! Yum!