Growing up we had breakfast for dinner alot. In fact breakfast is
my favorite meal. I like it even more than dessert, believe it or not!
As a kid it was eggs, potatoes, and toast or pancakes.
Later it became tofu, potatoes and a green veg or fruit.
But sometimes toast with marmite! Hee hee As long as it is not heavy in
faux meat or sugary pankcakes, I am a firm believer in breakfast at any hour.
As much as Monkey-man loves his sweets, he goes ape-shit for
anything salty and savory. I think it is a male thing to be honest.
I know I've read something about women being more biologically wired
to like sweet stuff like chocolate. Now this isn't a 100% of the
population or anything, just tendencies. I believe it was a podcast from
Stuff You Should Know or Stuff Mom Never Told You.
Anyway, I was thinking a quick fix of french toast for dinner,
but there was no way I was gonna get Monkey-man happy with that.
And it dawned on me-- savory french toast. Who says this stuff
has to be sweet.
It worried me a little though because I once tried to make savory
waffles and it is one of the most embarrassing foods I have ever made
to date. So disgusting. Remembering that I tread carefully.
Now you don't need eggs to make french toast, just your favorite
unsweetened or original flavored non-dairy milk.
I pair this up with some roasted potatoes and a tofu scramble with
peppers and tomatoes.
Breakfast for Dinner Savory French Toast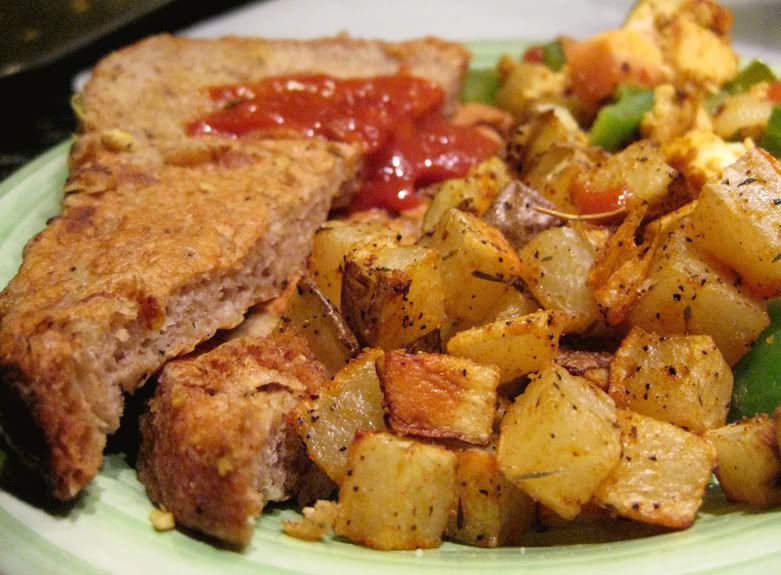 Ingredients
4 slices of day old or stale-ish bread
(I prefer a whole wheat because of the density)
1 1/4 cups unsweetened or original flavoured non-dairy milk
1/2 tsp garlic powder
2 tsp soysauce (opt)
1/2 tsp white pepper
1-2 tsp black pepper
2 tablespoons of flour or 1 tablespoon starch
1 tsp italian seasoning
2 tsp very very finely diced green onions (opt)
Salt to taste
Mix all the ingredients except the bread in a wide bowl.
Heat your frying pan and a little bit of olive oil over
medium-high heat.
Dip the bread, coating each side and lay it down on the frying pan.
Cook on each side until a dark golden-brown.
While the toast is grilling mix up a sauce of:
3 parts ketchup
1 part mustard
1 part chili sauce
1 part apple cider
Top with sauce and sauteed veggies if you like!
Serve while still piping hot and make sure your coffee is decaf
at this hour!