Hey Everyone!
Sorry this is a bit late, but I was off gallivanting in Palm Springs for
the week and now I'm back for business!
For the HSN Cook Spring Weekend Event Giftcard Giveaway...
I'd like to congratulate Dulcigal!
The ideas were all super yummy sounding and it made me hungry,
so I hit up a random number generator for the winner...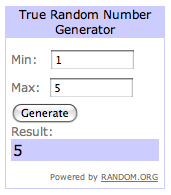 Thanks everyone for participating
and be sure to check back for another
giveaway soon and check out the
HSN Cooks Spring Weekend Event
happening NOW!