Happy St. Valentine's Day everyone!
Before I run off to have fun with a bunch of LA Vegans
I thought I'd throw a post out there!
I don't eat entirely enough Italian food. Probably because I miss
my little Italian place in Hawaii, Cafe Concerto. And ever since
Matt over at My Veggie Kitchen posted his
seitan parmesan
I've been
craving eggplant parmasan like there was no tomorrow.
I made some oober chunky tomato sauce with tvp to go on top
and used a vegan bleu cheese to top the eggplant... the brand
name escapes me right now. But they also have a tomato garlic
feta...
I didn't use bread crumbs, mainly because I didn't have
any old bread. But I use wheat germ for my falafel and
like how that comes out alot, so I made a wheat/flour
breading instead. The yeast adds the cheesiness and punched
out with all the seasonings.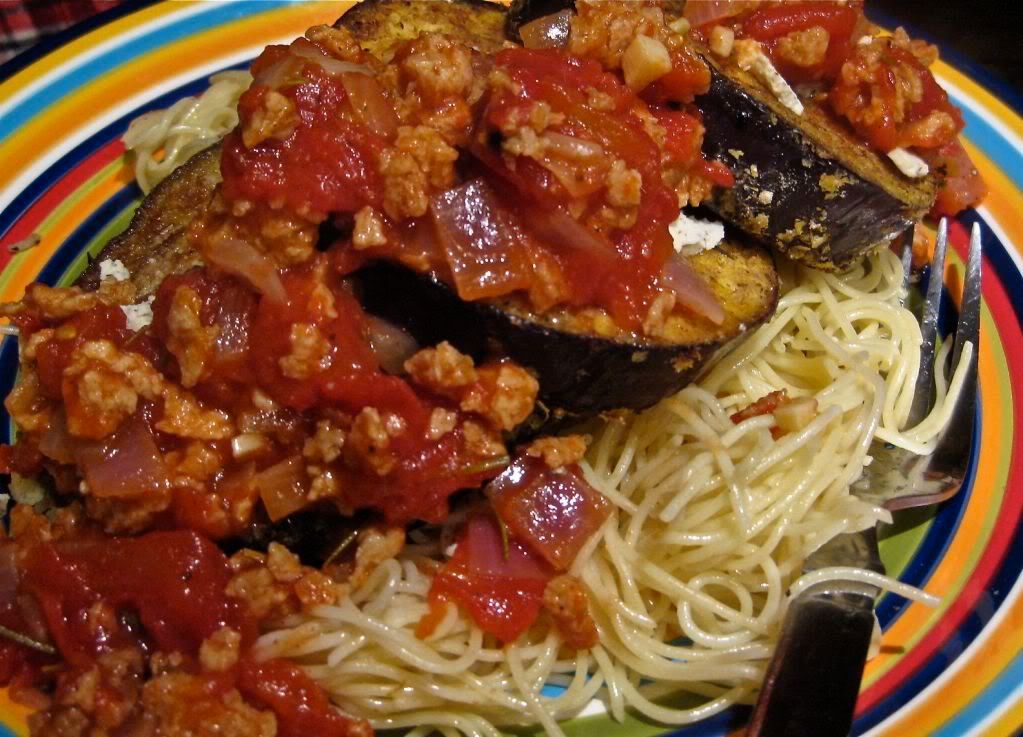 Vegan Eggplant Parmesan
Ingredients
1 Eggplant, sliced in to 1/2" slices
salt
3 tablespoons nutritional yeast
2 tablespoons wheat germ
2 tablespoons flour
1 tsp garlic powder
1-2 tsp Italian seasoning
2 tablespoons flaxmeal blended with 4 tablespoons water
1 tsp salt
and pepper to taste
olive oil
place sliced eggplant on a cookie sheet and sprinkle
generously with salt. Put another sheet on top, weighted
down with something heavy. Angle your stacking so it will
drain into your sink. The salt will draw out the bitter
liquid in the eggplant. After about 15-30 minutes remove
the eggplant and rise, blotting after.
Blend your flax and pour over the eggplant on the baking
sheet. Let it soak in. After blending the flax it will
become slimy and gooey. This worked as a good sub for
egg. Mix all the dry ingredients in a shallow pan and coat
the eggplant. The juices will start to soak through so
you can keep coating it as you heat your oil.
Grill/Fry on medium-hi until well browned and flip.
Keep in a heated oven until all are done. You may need
more dry coating as you go, depends on how much you make.
I served with al dente pasta and mah chunkah sauce and
it fulfilled all my parmesan desires!!