There are these really large flour tortillas sold at trader joes,
one of the only wraps or tortillas that are vegan. They tend
to tear pretty easy, but they are soo good- especially if you
get them on a fresh day.
They are one of the things I always seem to have around, showing
you just how often I eat burritos and wraps. I have to say that
I like them because they are cleaner than sandwiches and you can
be more exciting with what you put in 'em. I like throwing left-
over curry or salad in a wrap.
Not that I only eat white flour tortillas, they are just the most
accessible and the only ones near that don't have over 20 ingredients.
But hands down, I love breakfast burritos the most. When I'd get
taken to a fastfood mexican place as a kid, I always wanted to
order french fries with my burrito to stuff in to attempt to simulate
a breakfast burrito.
It is also one of the only ways I would eat eggs or red sauce.
Now I love mixing it up with different beans or just doing some
spicy taders.
My latest joy as been getting the vegan tofu eggs down.
I'm not talking about a tofu scramble here, very different.
Think plain scrambled eggs, now we're talking.
I just cooked the potatoes with some chili powder, cumin, salt,
pepper, garlic, onions, basil and a tomato. I don't have any
hot peppers right now, so I just added a splash of some hot
chili thai sauce that gave it a bit of tabasco fiasco.
Now the eggs are super simple. Cooked in a nonstick pan, dry...
Mash half a block of tofu add a squirt of mustard, 2 tablespoons
of braggs, black pepper, and a good sprinkling of kala namak-
black salt.
I got it at the Punjab market a couple miles away.
Basically its carbonized salt (pink, not actually black) that has
a strong sulfuric essence. I picked up the idea from the Vegan Crunk
who posted a recipe for some tofu deviled eggs a while back.
Haven't made the deviled eggs, but I've been using the salt in my tofu
salad sandwiches and scrambles. One smells screams eggs, try it
and you will understand. The pack was only $1, so there is no reason
not to.
So, cook the tofu over medium heat until it starts to dry out a bit
and brown. Throw it furiously into your tortilla and eat with voracity.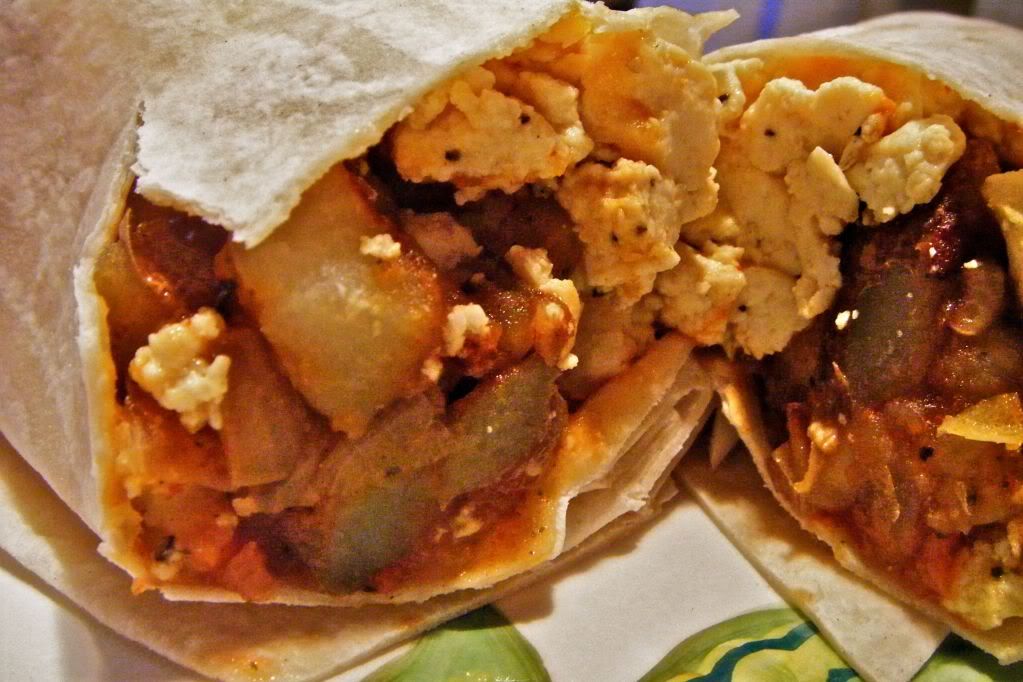 Like I said, any kind of beans are awesome in these guys, or
peppers. Vegan cheese, I'd recommend Follow My Heart's Pepper Jack
to grab a little spiciness. If you asked my brother, he'd say it
needed catsup. What is your favorite thing to put in burritos?
P.S. Since I mentioned the Vegan Crunk, I have to add that she is
having a
giveaway
right now for a copy of Tamasin Noyes' cookbook,
American Vegan Kitchen. So check that out!