Recently, we set a date to hit the town and do all that we could do
on foot. By town, I mean Hollywood. On foot didn't really work out.
I took the bus all the way from Pomona to Hollywood to meet Monkey-
man when he got off work, which meant I caught the bus at 8:30 and
jump off just in time to see him get off work at 11:00 am. Yes, it
took that long.
Thankfully, I had plenty of Stuff You Should Know podcasts, so I hung
out with Josh and Chuck for a while.
Like I said the original plan was just to hoof it and see what we
could see. Well, I also had to print a paper that was due the next
day and upload an assignment I had completely forgotten about before
the afternoon. So we ended up driving back and forth to find an
actual kinkos in the blazing heat.
I had packed a small lunch and we spent the rest of the afternoon
lazying at a park. (Being greatly disappointed in what we thought
the Grove was going to hold for us). Then we hit some random Holly-
wood thrift stores, where I scored a food processor for $8. (Go me!
Finally, I don't have to use the blender for hummus!)
Poor Monkey-man was exhausted after starting work at 4am and
wandering around in the heat took a huge toll by dinner time. So I
pulled him in to
Vegan Glory
.
Its not thai in the sense that I know, but good nonetheless. See why...
We ordered a seitan wrap and some roti with guacamole....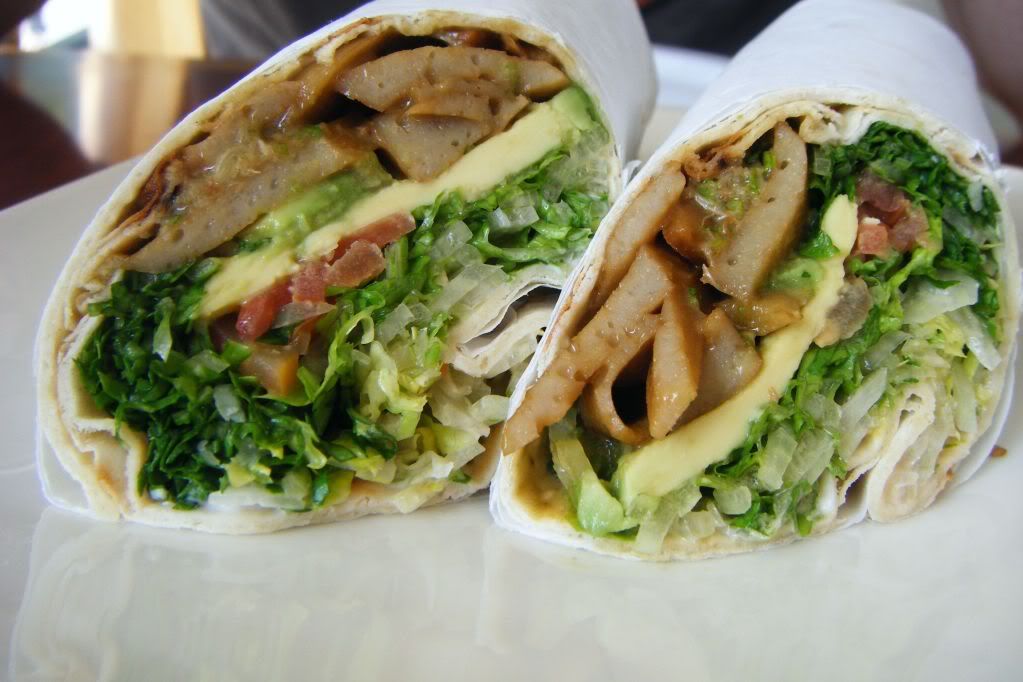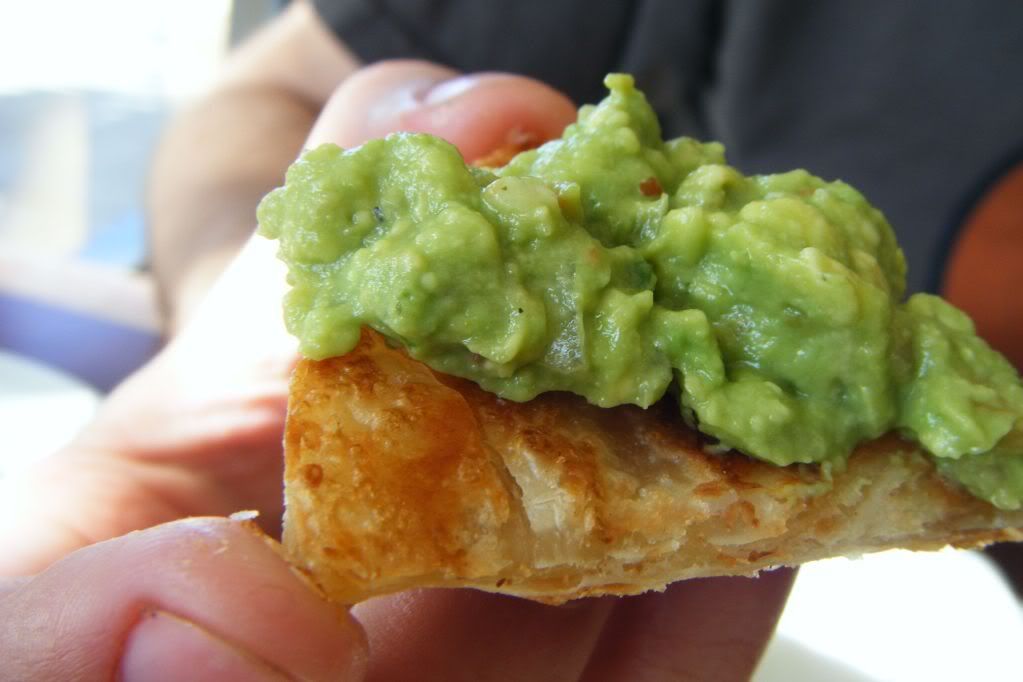 Very refreshing and the perfect snack we needed. I like seitan,
but sometimes like this it reminds me of mushrooms to which I have
a sensitive gag reflex. Its that soft spongy texture, but I love
mushrooms! Monkey-man loved the roti and now I get to hear how I
need to make it.
To cool us down I picked out a fruity smoothie and he got a hibiscus
cooler. So purty! Everything was good. The place is a bit out of our
usual zone, but if I find myself drying out in Hollywood again I'll
know where to go.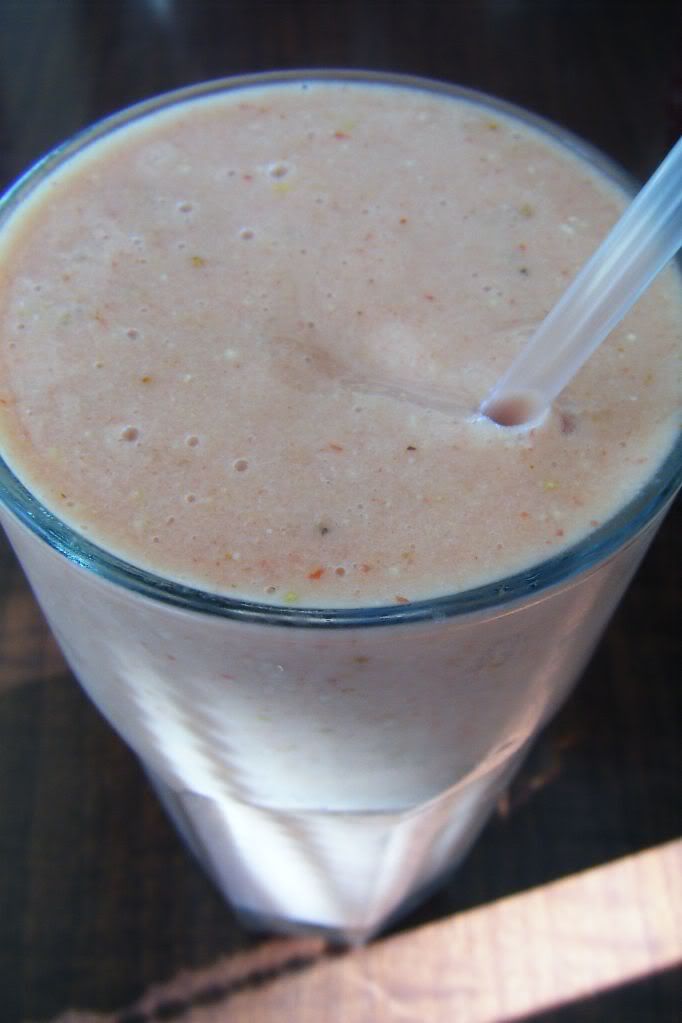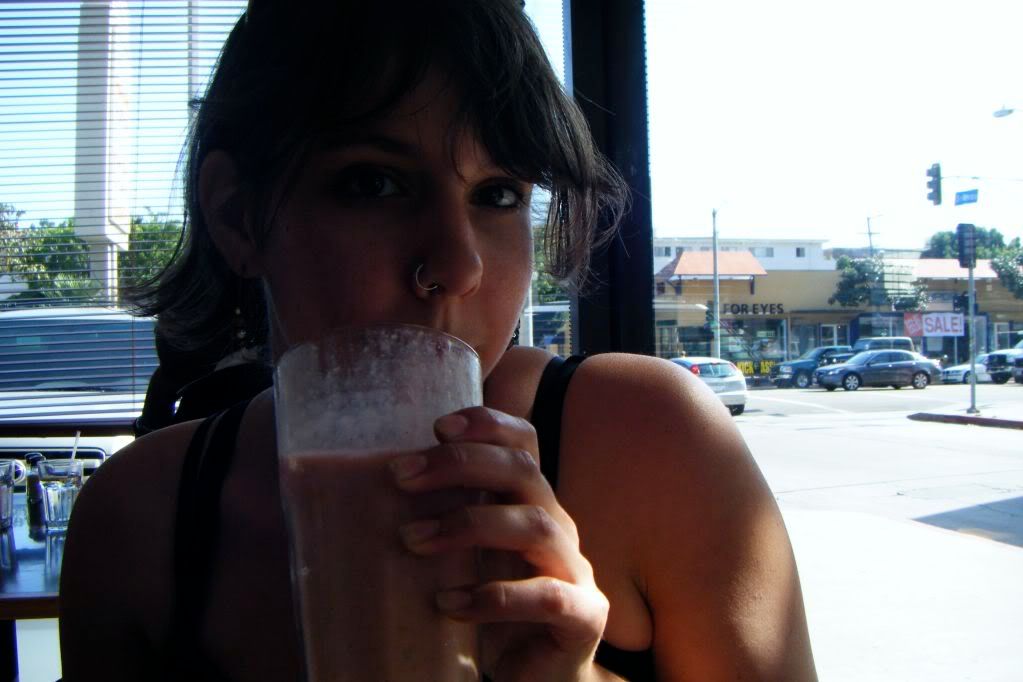 After cooling down and powering up we were ready to hit our
double-feature movie. New Beverly Cinema was showing a double-bill
of David Lynch's Mulholland Drive and Fire Walk With Me.
The movies were sold out and started so late, we didn't get home
until after 2am. It was a long day for poor Monkey-man, even worse
when I had to get up to go to class at 9am the next morning...
All in the life...