The summer I spent living with two of my best friends, our
cheap college fare was extremely bizarre and fatty. Granted
we did eat our fair share of potatoes and the vegetarian ramen,
there were three main things I learned to cook during that time
span. I learned how to make crepes from my neighbor, mochi from a
classmate and alfredo from my roomie.
I wrote before how we used to eat a crap ton of
crepe...
But I have no idea why we started making alfredo. It was
originally what me started back on a path to attempting to
reincorporate mushrooms into my diet. Ultimately that was
foiled by my strange gag reflex triggered by them.
However, we used porcini mushrooms nonetheless in hopes that
someday I could stomach them.
Since those days I continued making alfredo, but very rarely or
when I was desperate to make something my mom would eat.
I learned to make it with fresh parmesan and heavy cream and
since been trying to make a vegan version with nutritional
yeast and soymilk.
*Enter '
The Urban Vegan
'
I really dig this cookbook. Unlike most of the vegan books that
get churned out, it doesn't contain a lot of asian dishes or
bizarre expensive ingredients. I have a very european palate I
must admit.
So finally I shoveled out the earthbalance and made
Balcavage's
Vegan Alfredo. I made a couple adjustments...
First, I added garlic. Sorry, but I don't know what alfredo without
garlic would be like... Oh yeah. Boring.
Second, I cut down on the earthbalance and upped the nutritional
yeast. Theory was to make a roux out of the oil and yeast. Well,
to make a proper roux you need equal portions of the fat and X--
typically flour.
Third, having a proper roux you don't need the kudzu root that is
called for.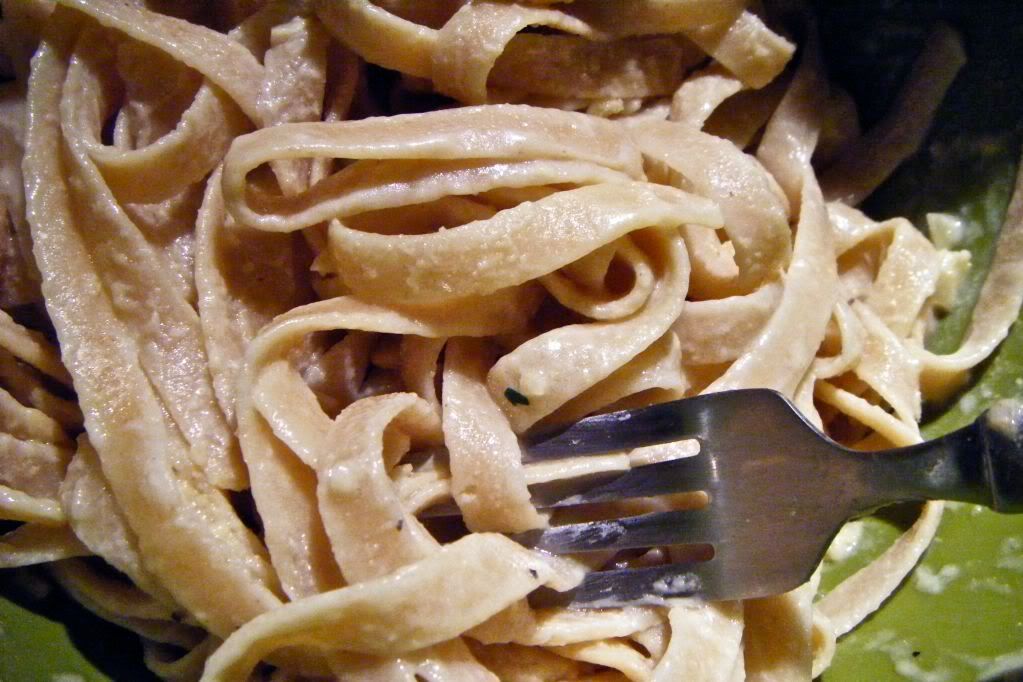 Vegan Fettucini Alfredo~ Adapted
Ingredients
3-4 cloves garlic, minced
1/4 cup earthbalance
1/4 cup heaping nutritional yeast
1 1/2 tsp salt
1 1/2 cup soy milk
black pepper
In a medium pan over medium heat, saute garlic in melting
earthbalance. Once the garlic becomes fragrant, add the
nutritional yeast to form your roux.
Continue to cook for about for a few minutes to cook roux.
Whisk in soymilk a little at a time. Add salt and turn to
low. Allow to simmer until it thickens up.
Toss with fettucini or other desired pasta.
I made about 2/3 of a package for this much sauce and served
it with some dark leafy greens.
To add some extra protein try tossing in some vegan chic like
gardein.
Even without the mushrooms, the memories hit me and I tasted
them anyway. Amusingly enough, Monkey-man said later that if
we hadn't had it with greens he wouldn't have been able to
stomach it either because he kept 'memory-tasting' shrimp.
Go figure! So, yes. This alfredo is so authentic tasting it
will blow your mind!