Whenever it starts getting a little chilly or if I start getting sick,
I insist on tomato soup for dinner. Thankfully I am not ill, but we
have had some crisp autumn evenings as of late.
Tomato soup has to be one of the easiest soups you can just about
make... Actually, now that I think of it-- it IS the easiest soup
you could make.
We'd get tomato soup and saltines as children when we were sick.
I don't know if my Mom made it or bought it, but it made me feel
better. If Dad was home we got miso, which I was not a fan of at the
time. When I got older and my Mom got sick, I made some tomato soup
for her. Except she is so picky I couldn't use garlic or onions and
she wanted it to taste just like traditional canned soup.
Well, I snuck some onions in anyway and managed to skip the heavy
cream with soymilk and she didn't complain. Yet, I found that it
did lose some of the richness it had before. The way to gain that
real creaminess is with cashews!
And adding Pumpkin is such an amazing twist. You get a lovely
orange colour instead of the light redish-pink and a very slight
tinge of squash. I hope you like it!
Pumpkin Tomato Soup
4 cups chopped, skinned tomatoes
1 cup chopped pumpkin, I used cooked but you can start with raw
1 med onion, chopped
3 cloves garlic, minced
1 bouillon cube
1/2 tsp sage
1/3-1/2 cup raw cashews, soaked for at least 4 hours
1 tbsp brown sugar
salt and pepper to taste
Saute the onions and garlic in a stock pot in a few tbsp of
water or mild oil until the onions appear translucent and the
garlic is fragrant.
Add the tomatoes, bouillon, sage, and pumpkin (if raw only).
Add some water if you are using fresh tomatoes.
Cook covered for about 15-20 minutes on med-low heat, adding water
if it appears to need it. Add the pumpkin and heat through for
about five minutes. Add the cashews, sugar, and seasonings.
Remove from heat and transfer to a blender. Blend in small
batches, minding the heat. Move back to the stockpot over the
heat until ready to serve. If the soup appears too thick, you
can thin it out a bit with some veg broth or non-dairy milk.
Make sure the seasoning is adjusted and enjoy!
Monkey-man whipped up some garlicy pumpkin seed crackers, which
we sprinkled on top!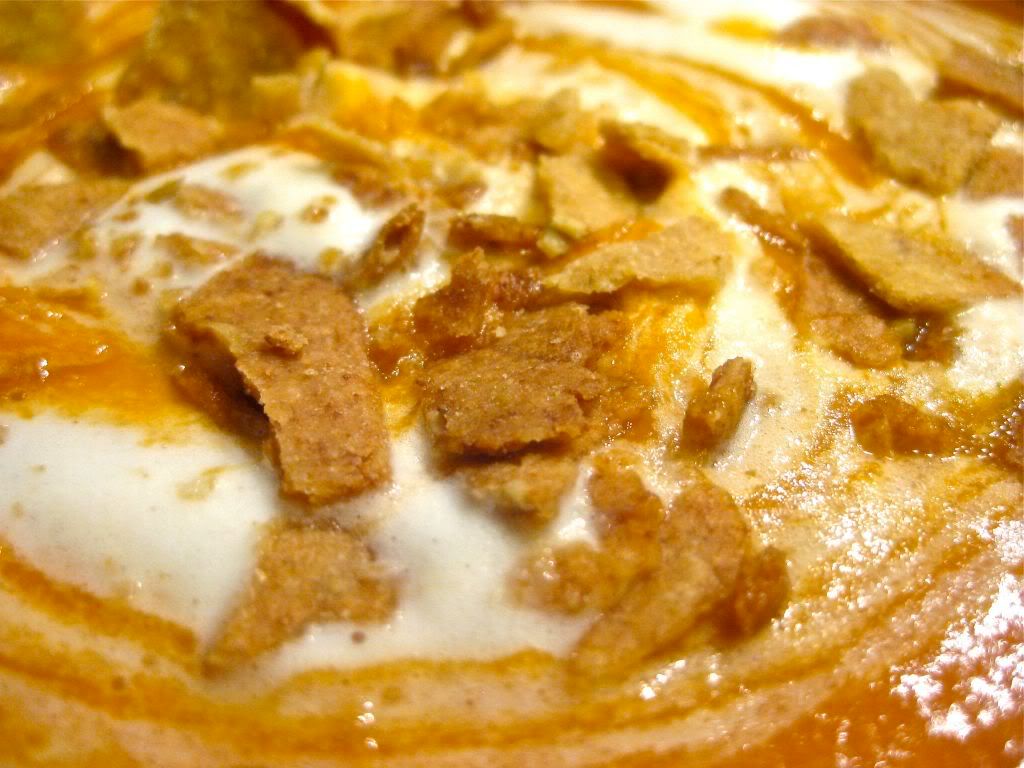 I then heated some soymilk in smallpan, just for a minute or so
and frothed it in my french press. I've got to get the hang of
soup designs with cream...