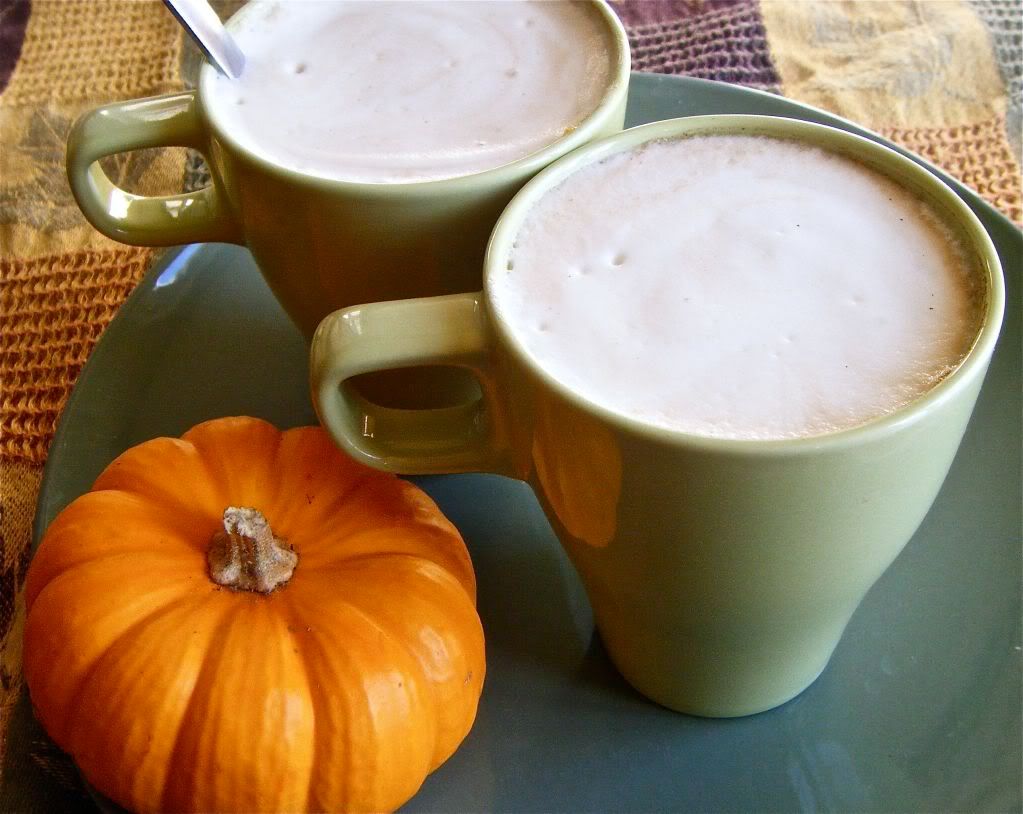 During Autumn Pumpkin flavored items are abound, even at chain
restaurants. I saw posters for Jamba Juice's Pumpkin smoothie
and Starbucks has it's ever popular Pumpkin Latte out again.
Why waste the +$5.00 when you can make it at home?
Not nearly as sickly sweet as the commercial versions you
can buy, but you can always add more sweetener if you like.
Plus, it's vegan, unlike the Starbucks version which supposedly
Has condensed milk or some such nonsense in it.
Pumpkin Spice Latte
Ingredients
2 tbsp agave or maple agave blend
1/2 cup apple juice or cider
1/2 tsp ground cinnamon
1/4 tsp ground allspice
1/4 tsp nutmeg
1/2 cup cooked pumpkin
1/2 cup vegan sugar
1/2-1 cup nondairy milk
Coffee drink of your choice
Combine all ingredients in a blender and blend until completely
smooth! No lumps allowed!
Transfer into a small saucepan and cook for a few minutes on high.
This will cook off some of the extra liquid and also start to cook
and start to caramelize the sugar. Remove when it starts to thicken
slightly.
Go ahead and brew a strong bit of coffee, espresso, or (my new
favorite)
Teeccino!
Heat about 1/2-1 cup of soymilk just until warmish-hot. It will
start to form a little bit of foam on the edge of the pan. To
froth you can either use a french press like me, the steamer on
an espresso machine, or use one of those little battery operated
frothers that look like tiny metal whisks.
I've even seen it done by shaking a jar with the soymilk inside
or by being really good with a hand whisk.
Once you've got the soymilk to a thick enough level, pour your
coffee into your mugs and add 1-2 tbsp of your pumpkin spice mix
and stir. Pour in the soymilk and enjoy!