This has not been the best week for me. I had two midterms (neither of
which I did very well on) and I got sick. Tuesday night after my first
exam, I came down with a massive fever, freaked my boyfriend out, and
still have the symptoms of some sort of sinus infection...
Needless to say, my Cinco De Mayo was not very fun. I had planned on
making margaritas and some spicy tacos, but my body was having none
of that. Wanting something even a little celebratory, I had a sudden
idea.
At the same time that I had been craving doughnuts, I had also been
craving churros. Now I don't think I've had a churro for a good 12
years (probably at disneyland of all places). Now I know that
churros are incredibly difficult to make, but all that oil can just
get nasty.
My solution? No dough/batter, no vats of oil, no stress.
Cha Cha Cha Churro Chips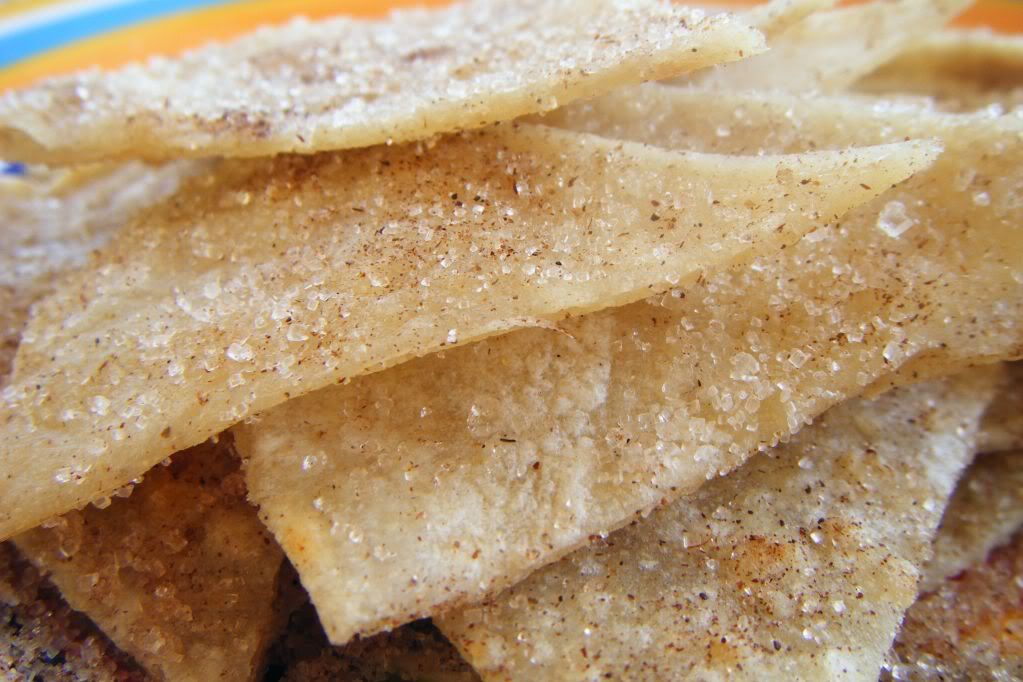 6 corn tortillas
1/4 cup raw sugar
2 tsp cinnamon
dash sea salt
a few tablespoons vegetable oil
Grill the tortillas on a small pan with as little oil as you can
without having the tortillas become dry. The oil will make the
sugar and spice stick when its done.
Put the sugar, cinnamon and salt onto a plate. Flap the tortilla
down on the sugar straight off the pan. Flip and Transfer to a
warm oven, until they are all cooked.
Cut into pie shapes and serve!
Honest to goodness, tastes just like a churro!
And that's what I've got for a very late cinco de mayo, folks.