Today is 'day-one' of my pizza week series!
This is exciting! I've been reading a lot of ideas and suggestions
for special toppings and have will have a hard time cutting it down
to seven. But I'm gonna start off with something really simple.
Granted this may be comprised of mostly left-overs, but let me tell
you that left-overs can make a damn good pizza. That is where I start
this series. I think we all need to open our minds a little and
start experimenting with pizza more. Is anyone else tired of the
plain 'cheese' pizza with basil and tomatoes? Ok, it is pretty good
I grant you, but I want something different. And I rarely make the
same thing twice. I want something out there, something that will
take me by surprise. Something with pizazz, pizza pizazz.
So last night we had tacos and I had made a neo-traditional spicy tvp
taco filling. It then got thrown in with some tomatoes, jalapenos,
fresh spinach, purple onions, all topped with the chedder daiya cheese.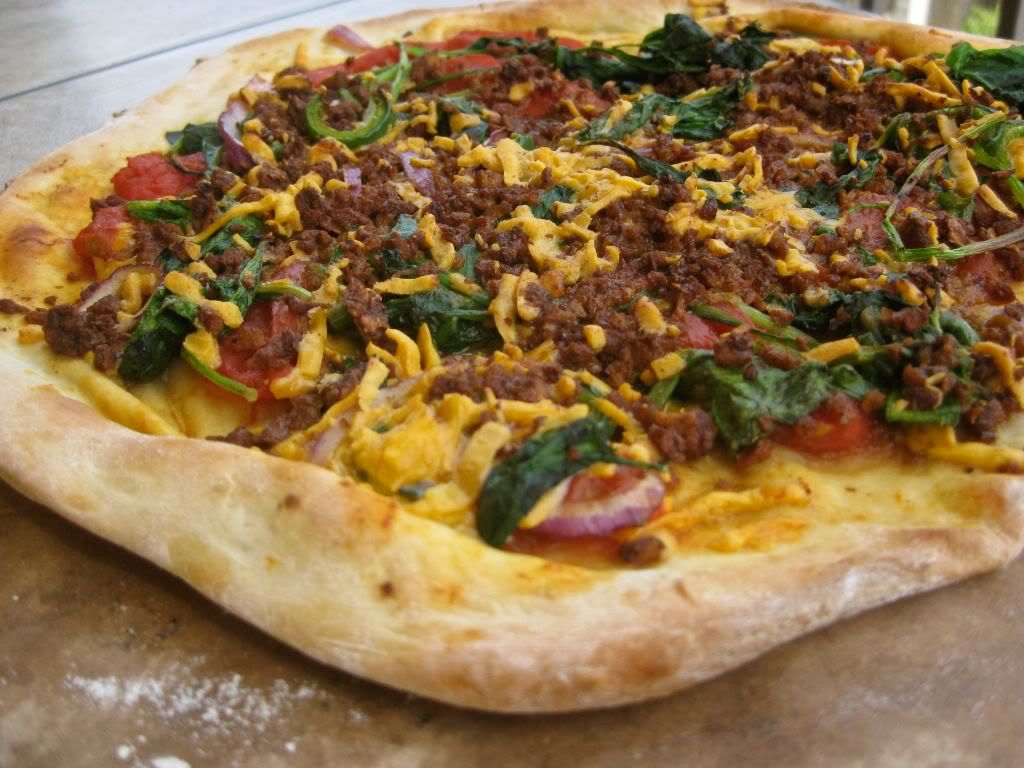 The spice gets pumped from ground chili from our mexican market.
Not the typical chili powder that you get from vons, etc. Plus a
splash of cayenne. If you like, use habeneros instead of jalapenos
or sprinkle the whole thing with some tabasco/hot sauce.
The daiya cooled it down a little, but only so much.
The thin crust compliments the whole dish, without weighing it
down with breadiness. We had to keep it a little mild in the
long run though, 'cause I don't think Monkey-man can take the
heat-- I like my food to make me sweat!