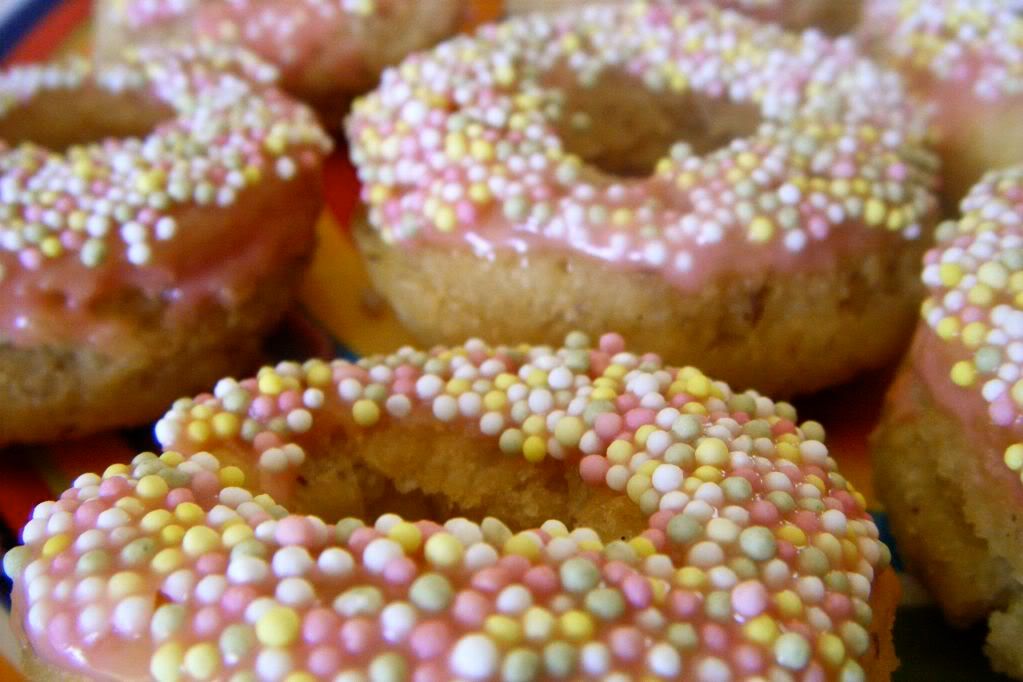 Last week for Bake me up LA even/Vegan Bake Sale Day- I decided
my twisted, fatty cravings had gone long enough. I could wait no
longer for another vegan donut.
I am no stranger to making my own donuts. My Dad would make them
when we were little and I made them a few times as a teenager,
but you all know they are pretty scarce for vegans.
The first vegan donut I had was at Voo Doo Donuts in Portland.
Amazing place and one of my all time favorites. Glad I actually
don't live there because I would be a stone or two heavier.
You may not believe me, but I don't make a lot of sweet stuff.
Generally bake sales are my big excuse to splurge on the vegan
sugar-crack attack. I'll get to the point. I made vegan donuts.
They were awesome. They were tiny. They were perfect. I want more.
Mini Vegan Unicorn Donuts
Named for the pink frosting, rainbow sprinkles and I'm convinced
that that is where the hole originated- the unicorn's horn!
*This is a traditional heavy Cake Doughnut recipe! Not puffy!!*
Ingredients
2 cups flour
1/2 cup raw sugar
1 tsp sea salt
1 tablespoon baking powder
1/2 tsp ground nutmeg
2 tablespoons lightly flavored oil
1/2 cup non-dairy milk, soy/almond/hemp would be best
1 tbsp flax seed whisked with 3 tbsp water
1 tsp vanilla extract
Oil for frying
Mix flour, sugar, salt, powder, nutmeg. Add the oil and mix until
it appears crumbly. Add the 'milk', vanilla and flax.
Adding a little extra flour, turn out on to a clean counter-top
and finish mixing by a quick knead. Roll out to a 1/2 inch
thickness and cut out into desired shape/size.
I used a shot glass and the cap off my vanilla bottle to make tiny
donuts and donut holes. The idea was to cut how much I was eating
and to make them more appealing for the bake sale. Donut cutters
are pretty easy to find at any of your typical kitchen shops.
I used to use two different sized biscuit cutters.
You can also roll the dough out into thin ropes and twist together
to make tiger-tails. Cut them into large circles if you're going
to fill them with jelly or into large bars if you want to make
bar donuts.
Ease gently into 375F oil. Use a thermometer if you have one
because it is easy to have your oil to hot and you will end up
with even heavier, breadier donuts than a cake. My first batch
was cooked too hot, so I got out my candy thermometer and the
next batch came out perfect.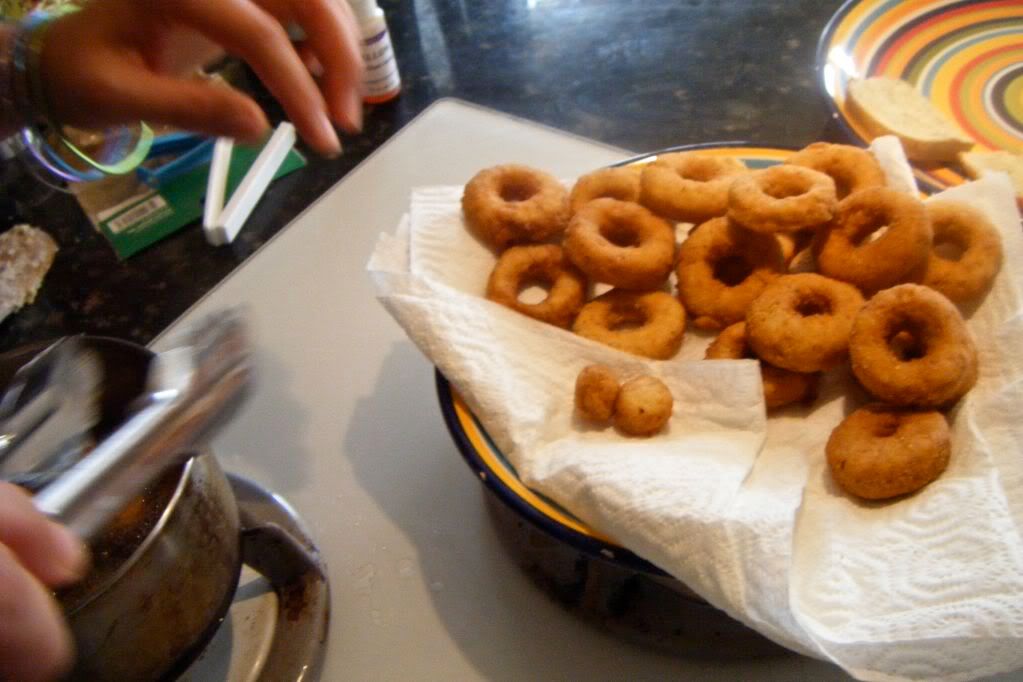 The nice ones got sent to the sale and the heavier ones got to
stay home for us! Hee hee, I honestly didn't mean to do that!
Cook on each side for a few minutes, turn and pull out with a
large mesh frying spoon, tongs or (if you're really good with
them) wooden chopsticks.

Dip in your favorite frosting....
Add some sprinkles....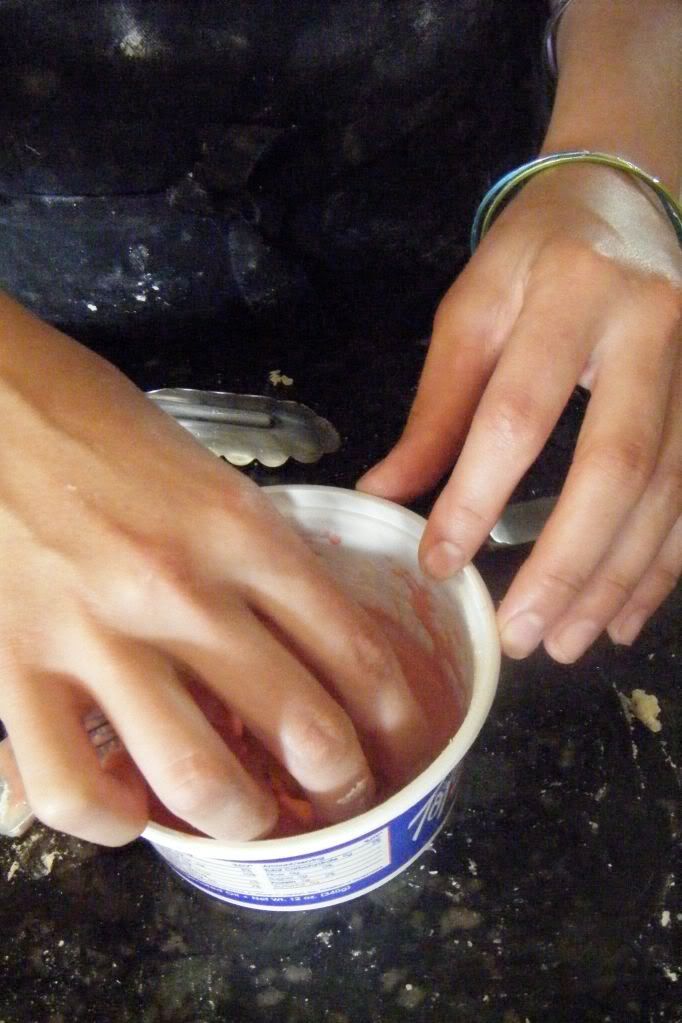 Or roll in some cinnamon and sugar! (be quick about it though)
If you let them rest and cool the sugar and spice will not stick.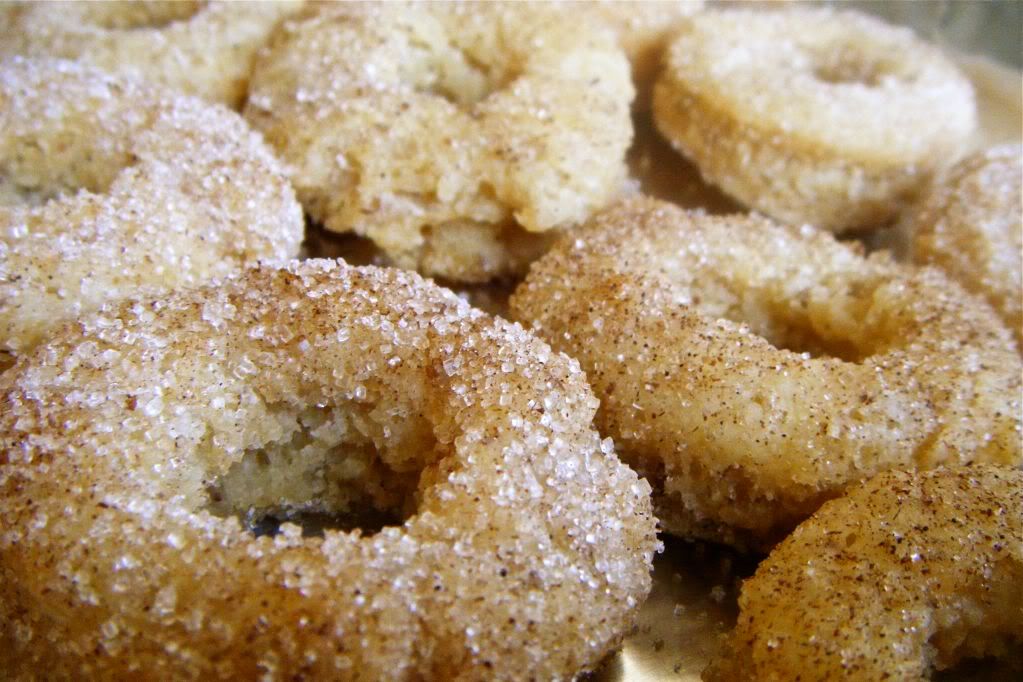 The next morning we had the left-overs with some coffee and fruit
for breakfast. Oh my god, I knew as soon as I posted this I would
want to make more. Thankfully, they are easy enough to make your-
self and enjoy, but require enough work to not make everyday!
Just maybe every
other
day...