When I was a teen the only way I would get to see a decent concert
was to fly to Honolulu from the Big Island. One time when I was on
Oahu to see The Ataris (when they were cool and before the age of
emo) we all hit up California Pizza Kitchen. It was before the
restaurants were really that big, so it was pretty exciting at the
time.
Ok, I'm done dating myself.
When we were there I got a vegetarian tostada pizza that really
kicked butt, but then was struck with the karma of eating cheese
and got a headache. Years down the road I realize that the majority
of my headaches came from eating cheese. Go figure.
Looking back though, it was a good pizza. And I especially liked
it because of how unusual it was. I love going out and trying things
that haven't dawned on me to make at home.
So, during my pizza making adventures I decided to pick my memories
and try to replicate it. First thing to go was their crappy lettuce.
I will never understand what the appeal of iceburg lettuce is to
people. Oh yeah, its cheap.
Next I used pinto beans instead of black and baked it with the
cheese, whereas they just throw it on cold. I used the chedder daiya,
but Follow My Heart pepperjack would be good too.
First you mash about a cup or more of beans with some garlic, 1 tbsp
chili powder, 1 tsp cumin, and a dash of cayenne. Roll the prepared
crust out nice and thin and spread the bean mash on top. Sprinkle
with cheese.
If you're using a pizza stone like we have here, make sure you
preheat it in the oven first at 500F and then turn it down to
450F when you actually bake your pizza.
Bake for about 15 minutes or until the crust starts to brown nicely.
Before baked, prep your toppings.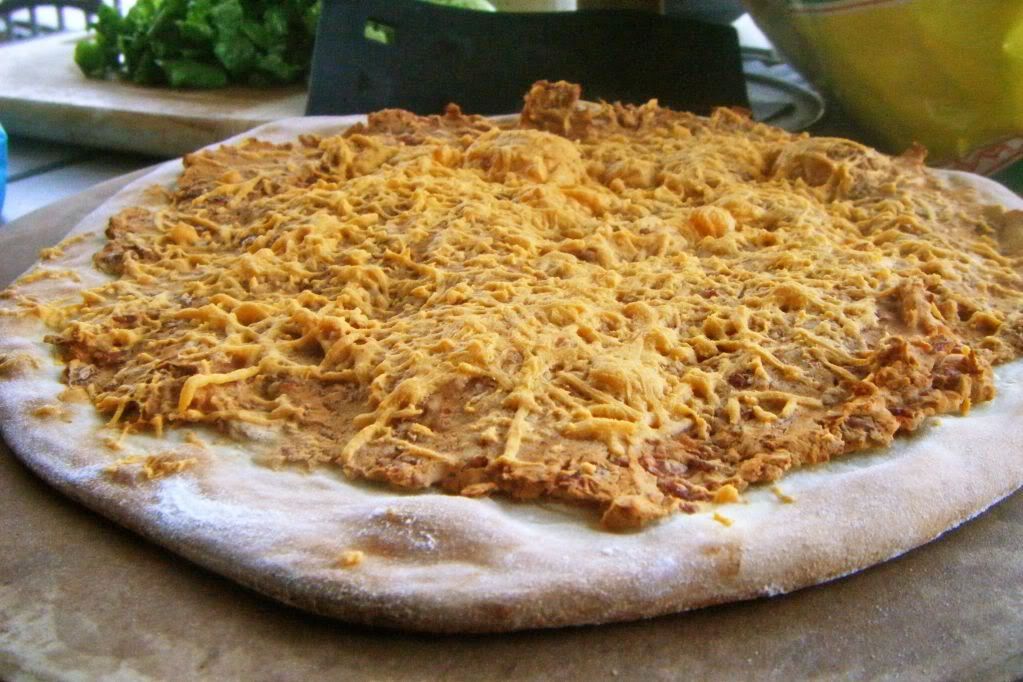 Think of what you like on your tostadas... We had lettuce, salsa,
and corn tortillas. Then you're going to top it with some ranch
dressing.
Combine a couple tablespoons of veganaise and mustard, thinned out
with a little bit of non-dairy milk. Add garlic powder, onion powder,
a squirt of lemon juice, salt, pepper, and some italian seasonings.
Slice your pizza and top accordingly. Consensus? Awesome.
CPK, kiss mah butt.