While visions of sugar-plums danced in their heads;
I wrapped lots of presents to send, burned an entire
batch of grapefruit marmalade, and ate way too many
cookies that I was supposed to be frosting. Hee!
There is only a few days left til Christmas and why
not get in on some traditional recipes? I really want to
make some figgy pudding. I made an excellent pudding
last year... (or was it the year before).
I'll be making a tofurky casserole which my papa and I make
for Thanksgiving, but I didn't this year because we were all
over the place and didn't have a full sit down Thanksgiving.
With harvest roasted veggies, that will be our Christmas Dinner.
More than a Christmas Dinner though, we'd have a Christmas
brunch. We would have eggs and potatoes, pancakes, (veggie)
ham, and I would make my grandpa's special orange sweet rolls.
That! is something I really remember at Christmas. We could
have our stockings before breakfast and open the rest after.
My Grandpa would make these sickeningly sweet orange sweet
buns, my parents would drink champagne with cranberries,
and my brother and I would have sparkling apple cider.
If you really want to awe your in-laws this year on Christmas,
forget the store bought cookies and pumpkin pie and pull out
your food processor. Leave them with visions of your kitchen
magic dancing in their heads. Forget the Starbucks giftcards,
who gives home baked goods anymore?
I cannot emphasize enough how wonderful it is to receive
something that really has that direct love and attention that
is so often lost. Every thing comes out of a box or from
a bakery at the supermarket, filled with artificial crap.
So people are shocked when someone does even basic
cooking. I love making something like this that is actually
pretty easy, but seems like you probably spend hours and hours
on it. Let them think you worked your butt off and bask in
the glory of these spicy, sweet little puff of Christmas Heaven.
From what I can gather, Sugarplums were named only for their
appearance, as they look like tiny little plums rolled in sugar.
Most call for orange liqueur, but instead I used fresh
orange zest for a more natural approach. This is also a
good substitute gift to cookies when your friends (etc) may
have wheat or gluten allergies. Not so good if they have nut
allergies, but hey.
Vegan Sugarplums
Sugarplum Faerie Dust
1/3 cup vegan powdered sugar
1/4 tsp cardamom
1 tsp cinnamon
1/2 tsp nutmeg
1/2 tsp allspice
Filling
1 cup almonds
1/2 cup pecans
1 cup dates
1/2 cup dried apricots
1/2 cup dried figs
1/4 cup golden raisins
1/4 cup dried cherries
1 tbsp fresh orange zest
Toast the almonds in the oven at 350F for about
ten minutes.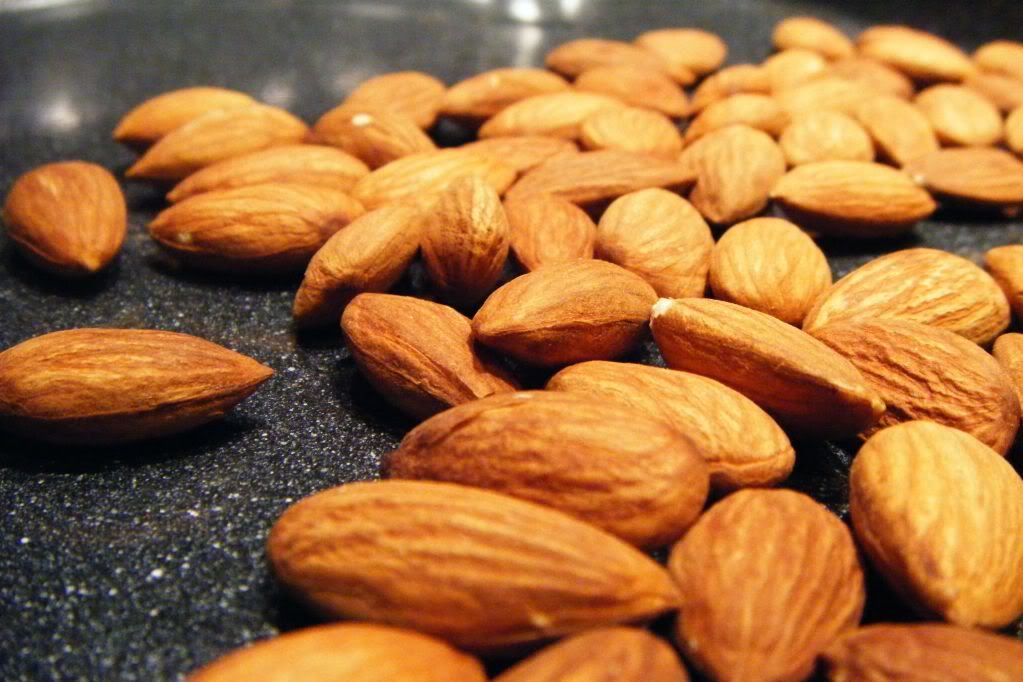 While almonds are toasting, sift together
the faerie dust onto a dish or pan that will be easy to
roll the plums in.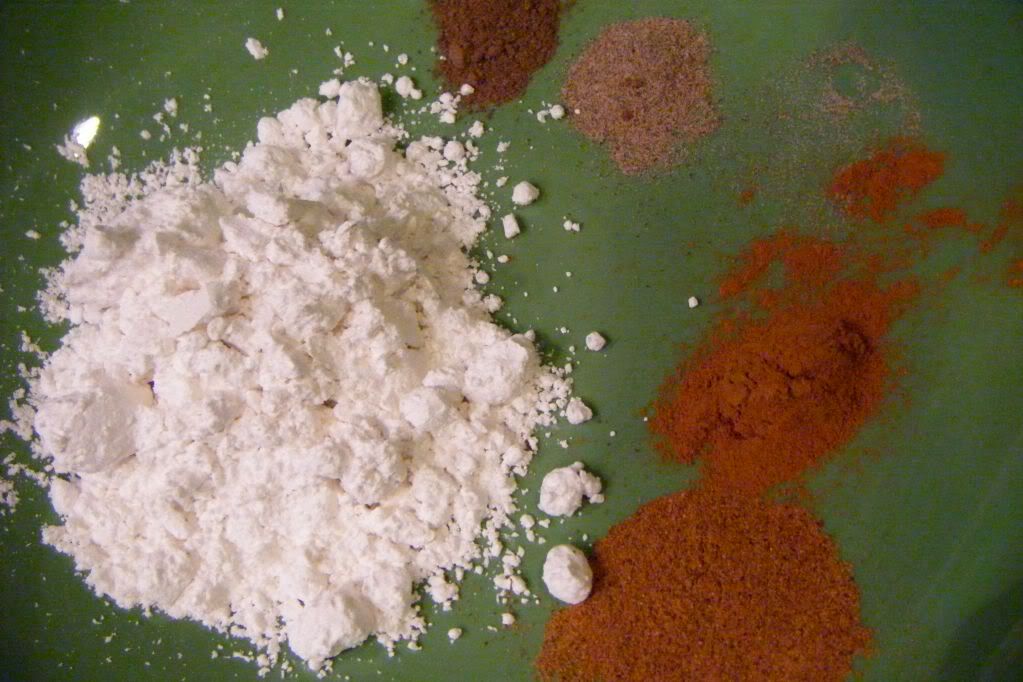 With a food processor chop the nuts first and set aside.
Next process the dried fruit from largest to smallest.
This will keep the fruit at a pretty uniform size. 

Continue to process them until it all starts to clump together,
then add the nuts and zest.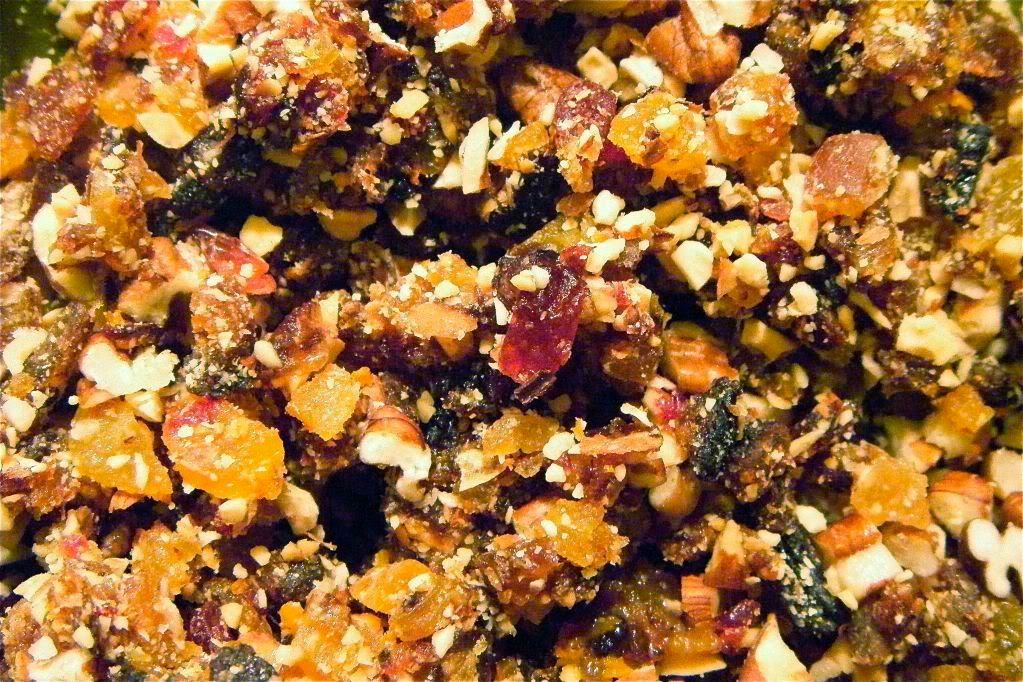 As you can see from my photos, I don't have a processor.
So, as the sadist I am, I did this all by hand. It took me
a crazy long time, so if you don't have a processor or alot
of spare time, I strongly suggest you go ask a neighbor to
borrow one! I just put Home Alone on and resigned myself
to chop for about half the movie.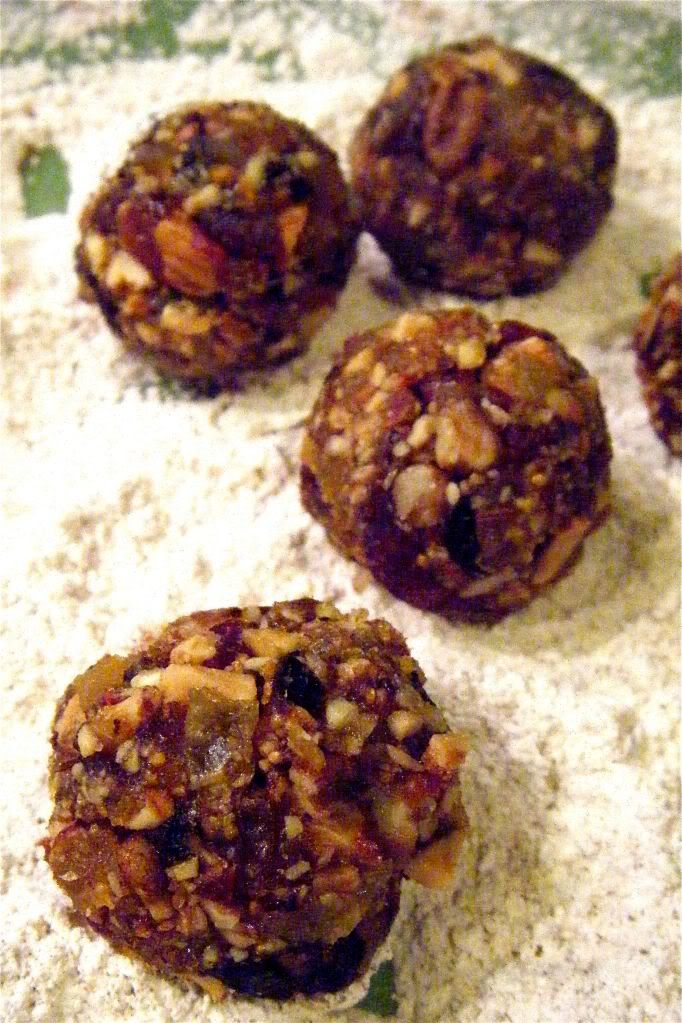 Once you have this all mixed together, with clean hands,
shape into small balls (a little smaller than 1" in diameter).
The sticker your hands get the harder it is to shape them,
so you'll have to wash up a couple times. The key to
keeping them together is being gentle while your rolling them
out and shaping them.
Finally toss in your spiced faerie dust!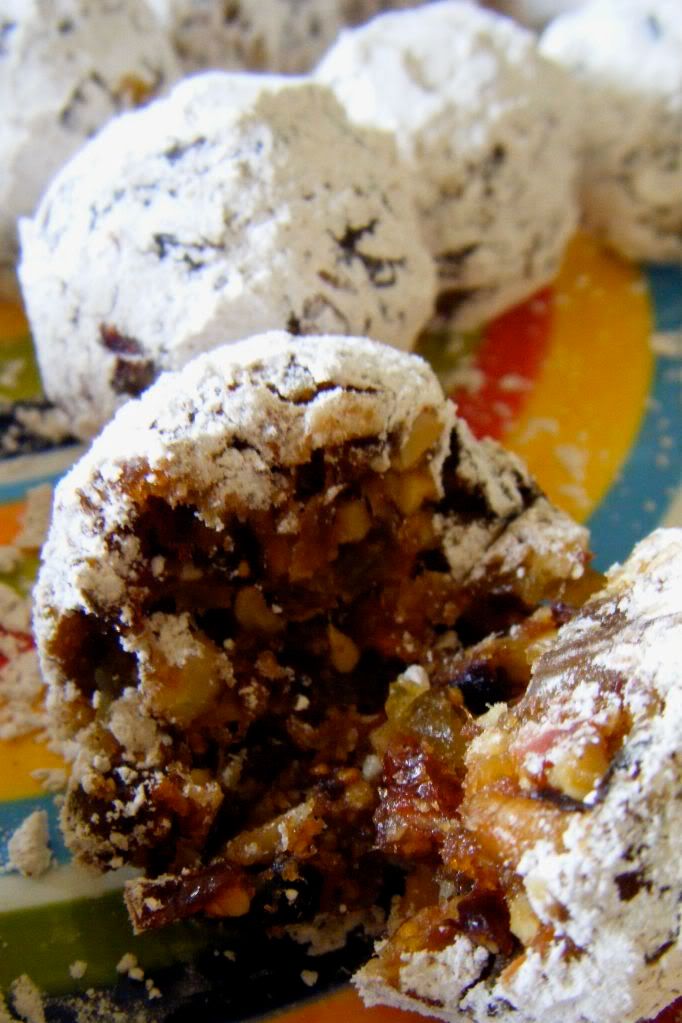 This make about 24-30 Sugarplums depending on size.
Store chilled in airtight containers, layered with wax
paper.
Using raw date sugar and raw almonds, this recipe
could easily be made completely raw if you like!