I will not lie, when I was growing up we ate a CRAPLOAD of
kraft mac and cheese. My Mom was a decent cook, but she hated
it. My Dad was a cook for a long time, but he worked alot!
So the last thing he really wanted to do after 12 hours in a
kitchen all day was come home and cook. Cooking is not all
love and glamor. Far from it. That is why I am admitting
my childhood staple was the ole neon orange noodle in a box.
About 4 or 5 months ago I posted
this recipe for mac and cheese
.
Well, I've made it pretty often since the Monkey-man is an
ex-cheese nut. But I don't just use it on pasta for mac and
cheese. We use it on pizza sometimes, calzones, puff pastries,
on veggies, chili and fries, etc etc etc
But I've departed from what I originally posted and simplified
it quite a bit, losing none of the flavour.
I would compare this to the Annie's version of mac and cheese,
as the nutritional yeast gives it the aged taste.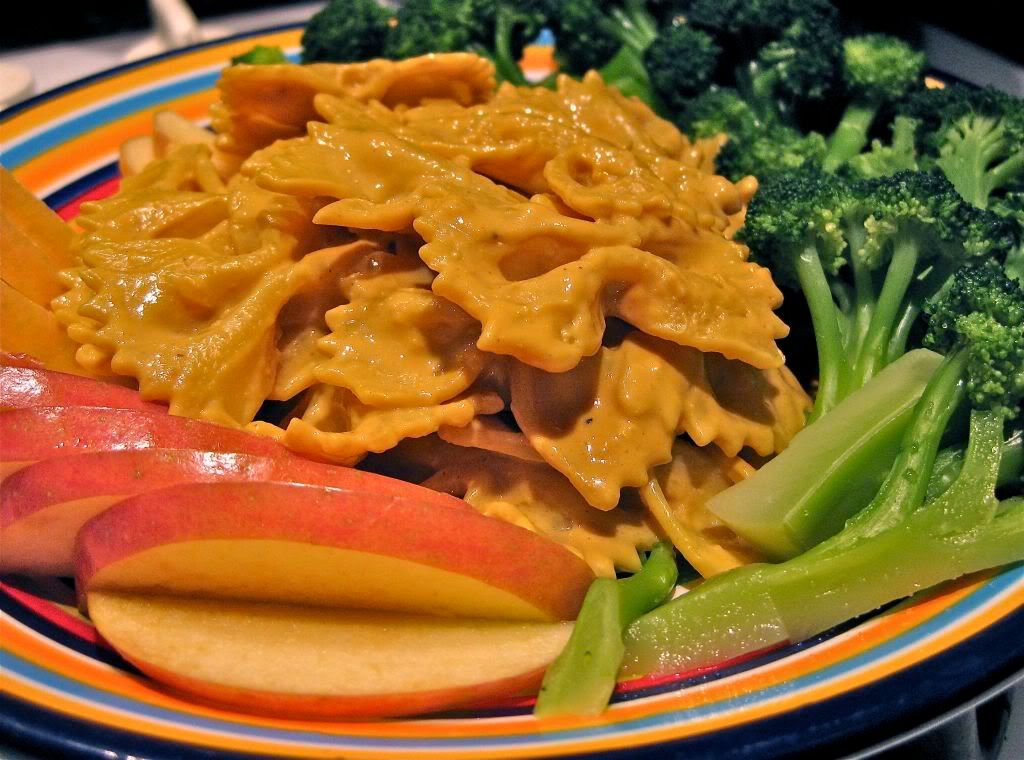 To be honest, I never liked the idea of adding a thickener.
It seemed unnecessary, so I just took out the water from
the original recipe. That was also the only reason you needed
to boil it- which I've discovered kills the vit B-12 in the
nutritional yeast- yowzers! So sometimes, I just whisk it right
up without cooking it, unless you're making a hot dish and
then I only heat it up to as low as I can keep it.
The original:
Ingredients
1 1/4 cups water
1 cup plain soymilk
1 cup nutritional yeast
3 tablespoons cornstarch
1 tablespoon lemon juice
2 teaspoon salt
1-2 cloves garlic pureed
1/2 small onion, minced as finely as you can
1 teaspoon mustard
1/2 teaspoon paprika
1-2 teaspoon turmeric
pinch cayenne pepper
2 tablespoons tahini
1 tablespoon mellow white miso
black pepper to taste
The New
1 cups soymilk and then some to thin as much as you need
1 cup nutritional yeast
1 tablespoon lemon juice
1-2 tsp salt
2 tablespoons pureed onion or 1 tsp onion powder
1 tsp garlic powder
1 tsp mustard
1 tablespoon nut butter
1 tablespoon miso or more salt
The spices? totally opt in my opinion.
They are mostly for color.
I really like my mac and cheese with apples for some reason.
And we steamed up some broccoli.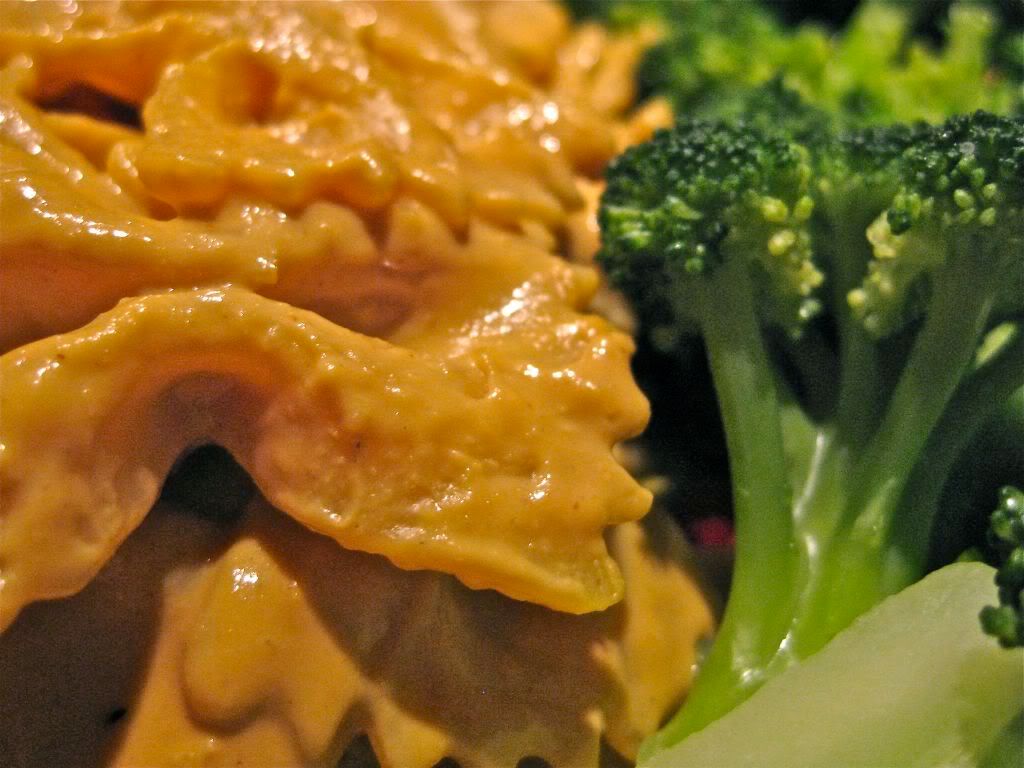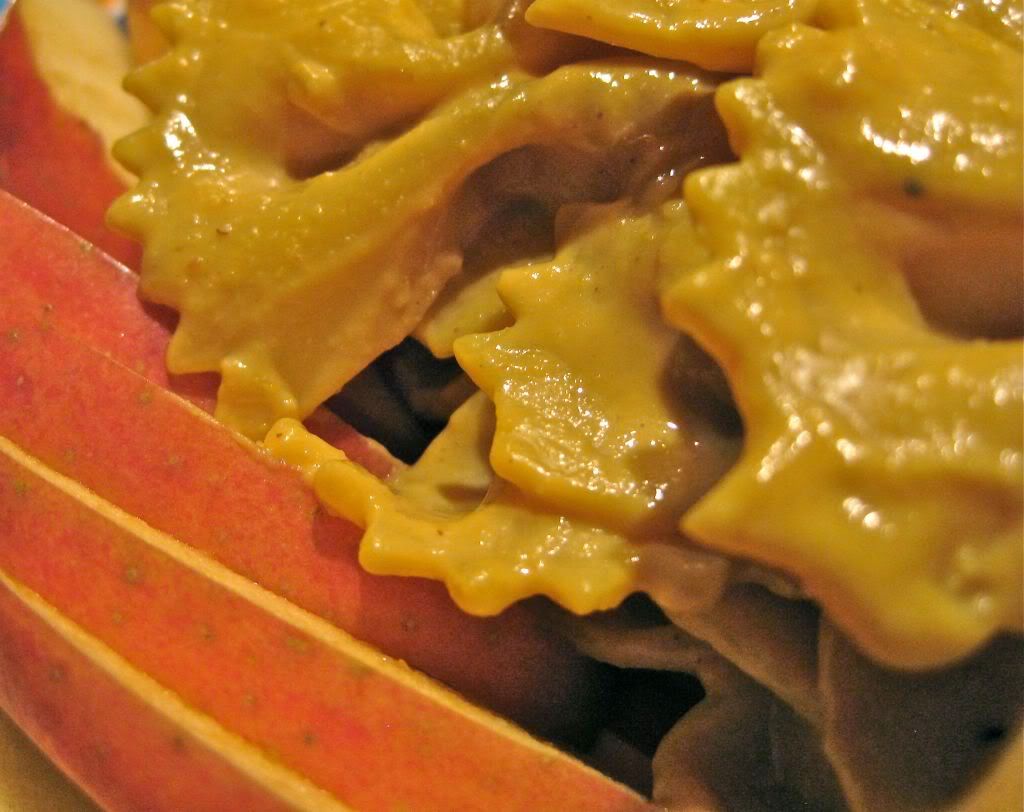 Here are a couple shots of our unbaked pizza. Monkey-man makes
the best pizzas ever! I think this was his rosemary
crust... sorry for the grainy pics, they were taken impromptu
with an iphone in bad light.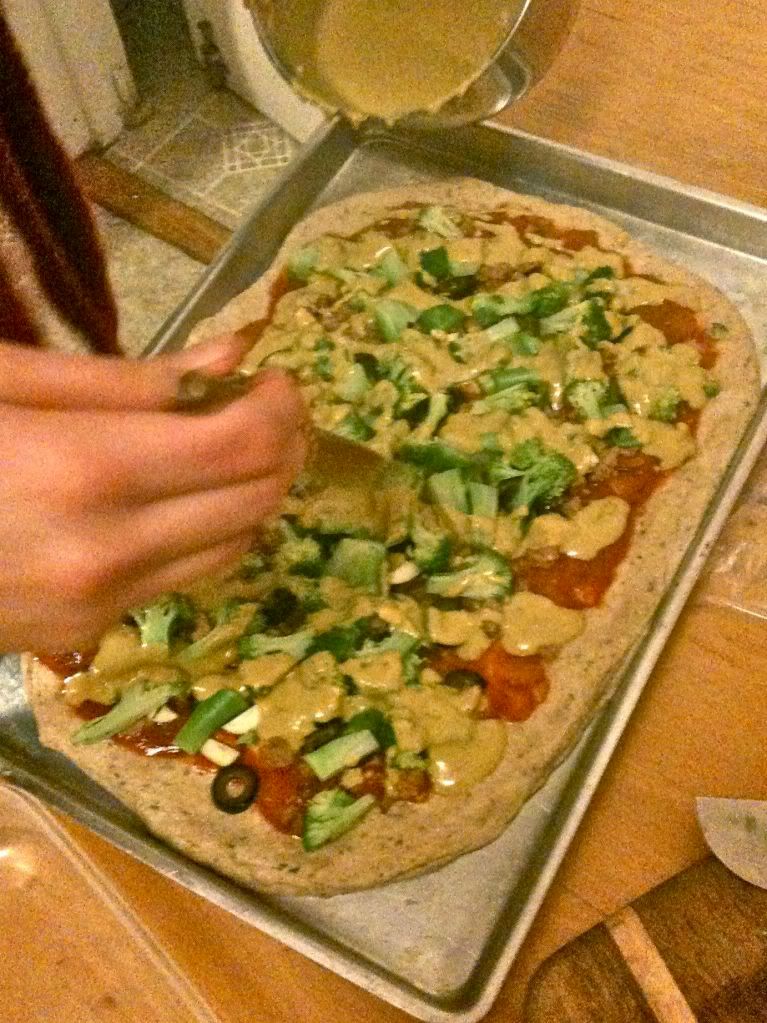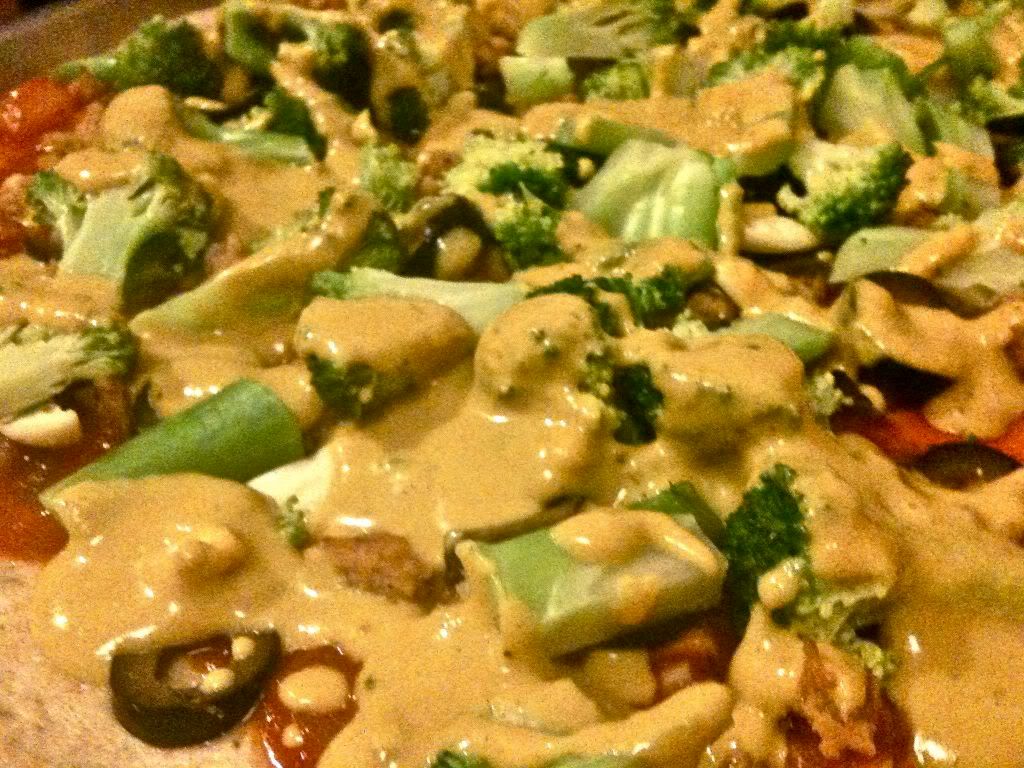 So it bakes up fine, just stays pretty creamy.
I recently discovered what exactly it needed to get that
kraft 'cheese' taste. Butter, or rather earth balance in this case.
I found this one stressed out day, doing a huge pile
of homework and policy data analysis, with no time to cook.
I had some plain left over pasta, was out of olive oil and
thought to myself... oh I'll just use some earth balance and
do a quick garlic-butter sauce. Half way there, after I had
already tossed a little earth balance with the pasta I remembered
I had some left over cheese sauce in the fridge. Well, I
thought what the heck and tossed it in there too. I'll be
damned if it wasn't more like the kraft stuff than you can
imagine. So take that new recipe and just toss in a tablespoon
or two of earthbalance and see what you think...
But let me just say the ultimate thing to go with mac and
cheese is something else from my childhood... a classic
80s flick. In this case it was Monkey-mans first time
(pss he's a 90s kid) to see Farris Bueller's Day Out.