When it is hot, it takes a lot to get cooking. Sometimes you
don't even want to eat, but you can get all the veggies you
need by keeping it cool. I certainly needed a break from all
the bread I've been baking, but I still wanted my carbs.
I whipped up some simple summer pasta for a warm day that
really hit the spot. You can even shred some raw squash instead
of pasta. I briefly sautéed some zucchini and yellow squash just
enough to get rid of that raw flavor and add a little bit of
moisture. Other than that, all I had to do was cook some spaghetti.
Throwing in some chopped green beans, asparagus or even some
tofu-feta would be a nice touch too.
By adding some red chili you can get a little bit of a sweat
going, which is perfect for a hot day. Getting your body to
sweat will tell your body to cool down. Plus the dish itself is
chilled, so you get the meal to cool your mind too.
Chilled Summer Pasta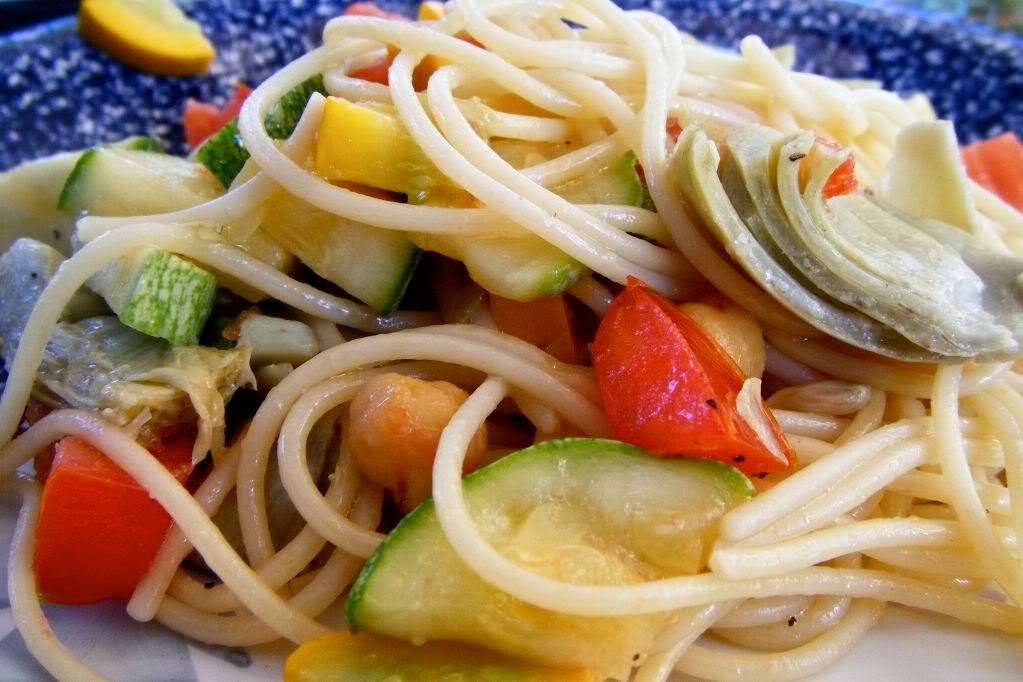 1 package of spaghetti or angel hair
2 tomatoes, chopped
2 zucchinis, chopped
1 yellow squash, chopped
1/2 can artichoke hearts
1 1/2 cups garbanzo beans
3 cloves garlic, minced
a few green olives sliced
3 tbsp olive oil
juice from half a lemon
1 tsp salt
Red Chili Flakes to taste
black pepper
Cook the squash and zucchini over medium heat with a few
tablespoons of water for only a couple of minutes. Toss
together everything and chill for about an hour before
cooking (opt).