I really think that if you're cooking to tempt omnis, sandwiches and
paninis are definitely one of the best things you can make. Honestly
everybody likes sandwiches and you can pack in so much flavor with
veggie patties, spreads and marinades that you snag people with the
familiar.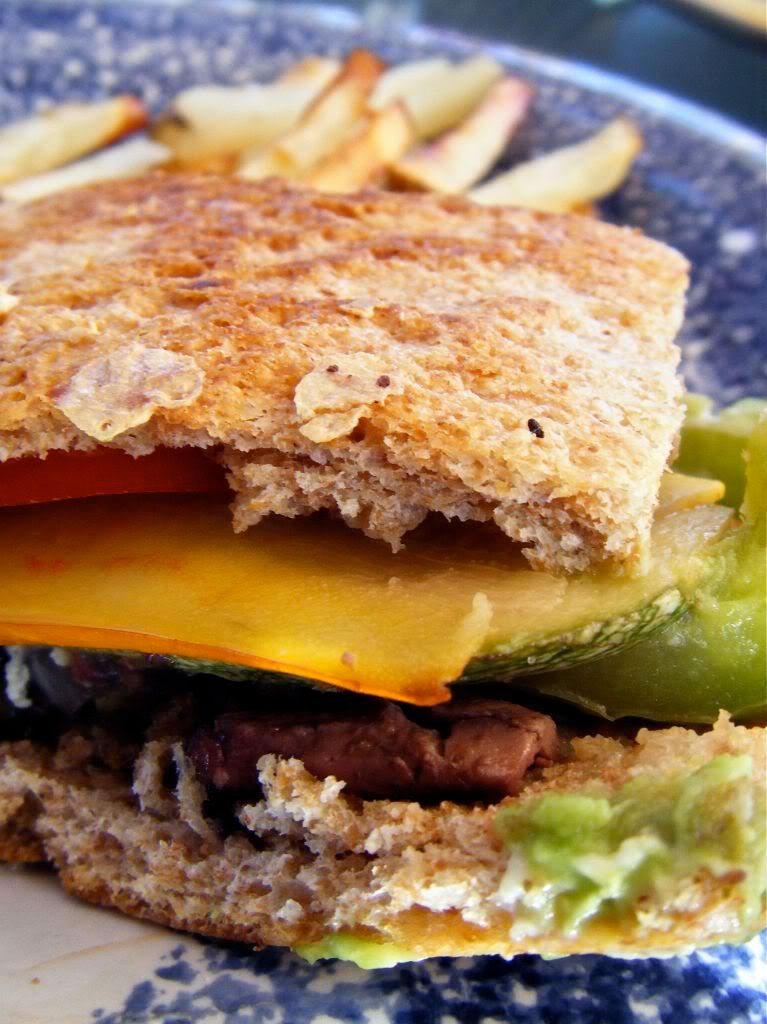 I marinaded a pack of extra firm tofu in this
marinade,
but
added a 1/3-1/2 cup of red wine.
For bread, I made a single batch of
whole wheat focaccia
.
While that was baking I briefly sauteed 2 sliced yellow squash,
1 zucchini, and 1 green bell pepper. I caramalized a sliced onion
in the remaining marinade that was left over from the tofu. (I used
most of the remaining marinade to actually cook the tofu in).
Once the focaccia was cooked I cut it into 3x6 pieces. I used
guacamole and veganaise on one half and hummus on the other.
Usually when I make paninis I add a splash of balsamic vinegar
or a good slather of pesto. But these spreads were flavourful
enough to enhance the flavour of the veggies.
When assembling put the smaller stuff on the spread so it sticks
and doesn't fall out when you're grilling the sandwiches. I also
added some raw tomatoes and some moz daiya when stacking on the
squash, onions, peppers and tofu. When grilling the paninis you
need to either be using a press or lay something heavy on top of
them. I use another pan with a heavy mixing bowl set inside of it.
Monkey man says to pull a Martha Stewart and use bricks covered
with foil.
Grill each side on med-hi heat for 3-5 minutes with a bit of
olive oil or earthbalance.
I served mine with some oven-baked garlicy frenchy fries.
I ended up with about 8 paninis and some left over veggies.